Roads Plc? Why privatisation might look tempting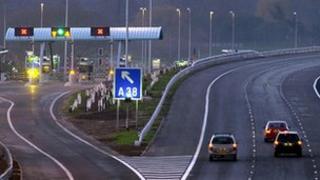 10 reasons why roads privatisation might look tempting to the government...
1. Our roads infrastructure is hopelessly out of date
2. The Department for Transport estimates the cost of congestion to business is set to rise by £10-12bn over the period to 2025
3. Investment in roads will always be behind schools, hospitals and a lot more besides in the queue of things the chancellor will spend money on
4. A new RoadsPLC could borrow against a guaranteed steady stream of income - either road tolls or "shadow tolls" - ie a fee paid for each driver using a road by the government
5. It would raise a lot of money for a cash-strapped exchequer - £100bn according to a report by the bankers NM Rothschild
6. All parties have, at one time or another, accepted the need to find new ways to fund roads
7. A nationwide "pay-as-you-drive" system was unveiled by former Transport Secretary Alistair Darling in 2005
8. Vince Cable dubbed the Rothschild plan "an attractive, positive idea which could release considerable resources to the public finances and may have real environmental merits"
9. The RAC Foundation has backed the idea
10. It's hard to imagine a time when the government will have enough money to spend on roads
...and two big reasons why it might not
1. The public hate the idea of road tolls. Labour's examination of road tolls produced an e-petition of 1.7 million names which is why David Cameron is now saying that he won't allow tolls on existing roads. Since then the cost of motoring has gone up
2. The public don't much like anything that smacks of privatising that which they already think they own (although water shows that once it's happened people shrug their shoulders and get on with their lives)
PS: Here are a couple of reports which examine the options
RAC Foundation - Funding Strategic Roads