Brodie Clark: Ex-UKBA head settles legal dispute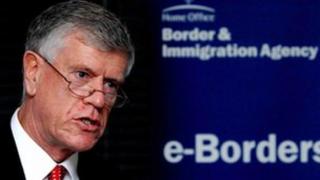 Former border chief Brodie Clark, the man at the centre of a row over immigration controls, has reached an out-of-court settlement with the Home Office.
Mr Clark quit as head of the UK Border Force after being suspended amid claims he had relaxed passport checks without the approval of the home secretary.
He denied ignoring advice, but Theresa May said he should take responsibility.
Unions representing Mr Clark said neither he nor the Home Office had admitted any liability or wrongdoing.
Mr Clark and two other colleagues were suspended in November after it was alleged staff were told to relax identity checks on non-EU nationals during the summer of 2011.
Mrs May said she authorised the relaxation of some checks on children from the European Economic Area (EEA) and some extra checks on EEA adults under "limited circumstances" at peak times - but that Mr Clark allowed officials to go further
'Saddened'
Mr Clark was at first offered the opportunity of retiring by the UK Border Agency, but, following the intervention of the Home Office, was suspended pending an investigation.
The senior civil servant later resigned, claiming he had become a political scapegoat and that his reputation had been damaged.
He denied being a "rogue officer" and said he had not sanctioned any measures beyond those included in a pilot scheme approved by the Home Office.
Confirming Friday's agreement, the Home Office said "differences ... relating to Mr Clark's departure from the UK Border Agency have been settled".
It added: "Both Mr Clark and the Home Office are saddened by the events that took place. Mr Clark and the Home Office believe that reaching a settlement is right and it will ensure that the focus is correctly maintained on future border security."
The FDA union, which represented Mr Clark in the dispute, said he was "pleased with the outcome", adding that it "has now brought some closure for him on the unfortunate events" which had happened.
It said Mr Clark would not be making any further comment.
The row led to an overhaul of immigration structures, with the UK Border Force set to be separated from the UK Border Agency.