Could Osborne be planning a 50p tax surprise?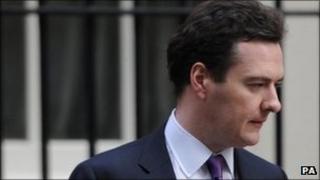 Ahead of next week's Budget, speculation is rife that George Osborne is preparing to cut the top 50p rate of tax on earnings over £150,000. Businesses say the tax is damaging the economy. But the move could be a hard sell politically in straitened times.
For a chancellor sometimes likened to a submarine - lurking quietly and unseen below the political waters, emerging occasionally to ambush his enemies - George Osborne has never been timid about deploying a torpedo.
Think of his audacious pledge to raise the inheritance tax threshold in 2007, throwing Labour into a pre-election panic and rallying the Tories.
The government's key political tactician enjoys the drama of an unexpected move.
In the run-up to next week's Budget, most have assumed that his dream to scrap the temporary 50p top rate of income tax would have to wait for another day.
Why? Because of its political significance.
Red rag
It might not raise vast amounts of cash but at a time of austerity it is a simple signal that the richest are paying their share.
And the Liberal Democrats have been saying publicly that they would only accept a 50p cut if new wealth and asset taxes are put in their place - a red rag to most Tories.
So, the thinking goes, leave it for another Budget.
But could Mr Osborne be about to spring another surprise?
It would certainly delight Tory MPs and business groups who argue the rate is anti-enterprise, a view the chancellor shares.
And will the timing get any better than this?
If Mr Osborne scraps it now he will get criticised by Labour for helping the rich and many basic rate taxpayers might feel peeved but by the next election in 2015 it might all have been forgotten.
If there are tax increases on the rich elsewhere in the Budget and help for those on lower incomes, Mr Osborne could have the political cover to go for it.