UK aviation policy 'unholy mess' - says top businessman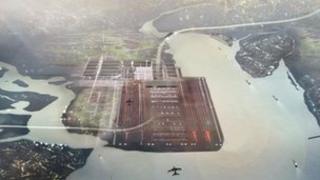 One of the UK's top businessmen has attacked the government's growth and transport policies, saying they "lack ambition" and are costing jobs.
Airline boss Willie Walsh said the coalition's aviation policy was an "unholy mess" and "going nowhere".
The idea of an airport in the Thames Estuary was "madness" and would force Heathrow's closure, he said.
Ministers will launch a consultation on aviation policy soon but have ruled out a new runway at Heathrow.
No new runways are being contemplated either at Gatwick or Stansted, a stance criticised by airline bosses.
Speaking at the British Chambers of Commerce's annual conference in London, Mr Walsh - chief executive of the International Airlines Group which owns British Airways - said the UK was failing "to keep pace" with Asian and Latin American in investment in transport infrastructure.
Referring to the fact that the UK was only 10th in the table of the world's most competitive economies, he said the UK was the equivalent of a mid-table Premier League football club such as Fulham - whose goal was to avoid relegation rather than aspire to be top of the table.
'Dismal situation'
He told the conference that China had built 42 airports in the last decade and planned to add a further 55 in the next eight years - at a time when the UK had ruled out additional capacity in the south of England.
The UK's aviation policy was in "unholy mess" and politicians had "made a dismal situation worse" by a lack of leadership.
Heathrow was "full" and he derided the government's ideas for increasing capacity, claiming a proposed rail link between Heathrow and Gatwick was "absurd" and a possible new airport in the Thames Estuary - to the east of London - was "an idea whose time never seems to come".
"Let me absolutely blunt," he said. "You cannot make a business case to even start considering the development of a hub airport unless, at the beginning, you say you are going to force the closure of Heathrow."
He also criticised increases in air passenger duty in past Budgets, which he said had cost up to 25,000 jobs and deterred business investment and tourism in the UK.
"The absence of a grander plan might not be so destructive if, as a country, we lived up to the compliments we pay ourselves in the growth plans that we publish. But we don't do that either.
"Their (the coalition) idea of improving competitiveness is to raise taxes to a level which goes way beyond anywhere else in the world. We are choking off jobs in tourism-related industries as well as cutting off employment in airlines, airports and a very long supply chain."
'No magic wand'
Airlines did not want "special treatment", he insisted but "clarity about how this country will earn its living in the future".
Mr Walsh's criticism, applauded by other business leaders at the event, comes a week ahead of the Chancellor George Osborne's Budget.
The government says they will launch a consultation on their aviation strategy - including on the feasibility of the Thames Estuary proposal - shortly and ministers say they are determined to use existing capacity more effectively.
Ministers are also committed to building a high-speed rail link between London and Birmingham, costing up to £17bn, and hope to extend it eventually to Manchester and Leeds.
Speaking at Thursday's conference, deputy prime minister Nick Clegg said the government had cut corporation tax and simplified the planning system among measures to boost growth.
The UK's economic recovery would be "choppy" and there was no "magic wand" to bring that about more quickly, he said.
While there had been signs of an improvement in business confidence in recent times, the government "must do everything we can to try and lock in this shift in mood".