MPs urge government to ban sale of Nazi memorabilia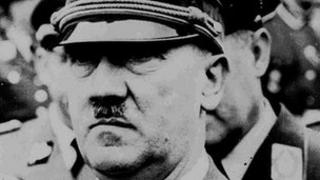 MPs are calling on the government to ban the sale of Nazi memorabilia after items belonging to Holocaust victims were sold at a public auction.
This comes after a tray presented to Hitler as a 50th birthday present went for £28,000 in Bristol last week.
A Commons motion, tabled by Labour MP Fabian Hamilton, condemns this as "profiteering on items promoting and glorifying hatred and violence".
Nazi memorabilia sales are illegal in France, Germany, Austria and Hungary.
Large UK auction houses like Christie's, Sotheby's and Bonhams refuse to sell such material, as does e-Bay.
'Glorifying'
The silver tray sold last week by Dreweatts Auction House in Bristol, had been expected it to sell for £1,000.
It bears the Nazi leader's personal German eagle crest and initials, and was a gift from his chief architect Albert Speer, who later became Germany's minister of armaments.
Last month, a surgical equipment set believed to have been owned by Major Anton Burger, commandant of the Theresienstadt concentration camp during World War II, was withdrawn from an auction in Cornwall after phone and email threats.
The parliamentary motion has been signed by Mr Hamilton, who represents Leeds North East, as well as Lib Dem Stephen Williams and Labour's Mike Gapes, MPs for Bristol West and Ilford South.
It says: "That this House deeply deplores the sale of dozens of items of Nazi memorabilia, including items of oppression belonging to Holocaust victims, which was held on 6 March 2012 by Dreweatts Auction House in Bristol."
It also "decries the profiteering on items promoting and glorifying hatred and violence" and "applauds" firms which have banned such sales.
And it urges ministers to "bring in immediate regulation and control of this abhorrent trade".