Legal aid: Ministers suffer more House of Lords defeats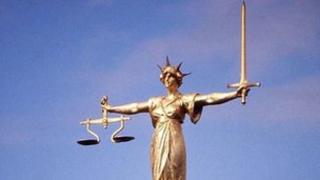 The government has suffered more defeats in the House of Lords over its plans to shake up the legal aid system.
An amendment arguing that someone entitled to legal aid should be able to get advice in several ways, including face-to-face talks, passed by 28 votes.
Another amendment, blocking government plans to force asbestos victims to use some of their damages to pay legal bills, also succeeded.
The government wants to save £350m a year on legal aid by 2015.
In total, the Lords have inflicted nine defeats so far on the Legal Aid, Sentencing and Punishment of Offenders Bill.
'Help not hindrance'
The amendment concerning forms of advice, proposed by crossbench peer and former Paralympic gold medallist Baroness Grey-Thompson, passed by 234 votes to 206.
Several hours later, peers backed the asbestos amendment, introduced by another crossbench peer Lord Alton, by 189 votes to 158 - a defeat of 31 for ministers.
And a ninth defeat came when a Labour amendment, exempting all industrial disease cases from new payment arrangements, was passed by five votes - 168 to 163.
People who become ill after being exposed to asbestos because of their work are not entitled to legal aid if they want to sue for damages and must use conditional fee agreements to pay for their cases.
At the moment they do not have to pay for legal costs out of their compensation, but the government had argued that successful claimants should hand over 25% of it to cover lawyers' bills.
Justice minister Lord McNally argued that the aim of the new arrangements was to reduce the "high and disproportionate costs in civil litigation", and without them "access to justice will not become more meaningful for all parties".
"If these amendments were accepted claimants in these particular cases would have an advantage over others who may be suffering from equally debilitating conditions. This cannot be justified," he said.
But Lord Alton told peers that asbestos victims "need help not hindrance", and the government's argument that making claimants pay costs would persuade them to search for the law firm offering the best deal was "simply fallacious".
"Dying asbestos victims have already invested enough and given their pitiable condition it is risible to suggest they will shop around," he said.
Domestic violence
For Labour, Lord Bach called the government plan concerning industrial disease sufferers "very unnecessary and rather cruel".
"We are right to control the cost of civil litigation, of course we are, but road traffic accidents and slip and trip accidents are quite separate and quite distinct and it is really incongruous that they should be linked somehow or other with what we have been talking about in this debate," he said.
Last week, the Lords voted to protect free advice for people who were seeking to challenge cuts to their benefits, and when they appealed to a higher court against verdicts.
They also backed an amendment urging the retention of legal assistance in obtaining expert reports in clinical negligence proceedings.
And there have also been defeats for the government over an amendment demanding the protection of victims of domestic violence from funding cuts, and others on access to services and appointing a new official to oversee the system.