NHS bill: Rebel Lib Dem MPs fail to derail plans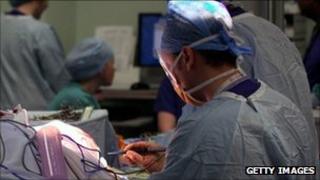 A call by rebel Lib Dem MPs for the government to drop plans to overhaul the way the NHS is run in England has been defeated in the Commons.
The government won the vote on the Health and Social Care Bill by 314 to 260 - a majority of 54.
A Labour-led motion also calling for it to be scrapped was defeated by 314 to 258 - a majority of 56.
The bill also cleared another hurdle in the House of Lords after Labour attempts to delay its implementation.
Labour had supported rebel Lib Dem leader Andrew George's amendment, which urged ministers to hold a summit with medical and patient groups to discuss fresh changes to the NHS.
'Very confident'
He said as it stood, the bill had "many failings" and the amendments the government had accepted made it "less bad but not sufficiently good enough" to pass through Parliament.
But Health Secretary Andrew Lansley said the changes were "the right idea".
Earlier he said Labour's call for the bill to be abandoned was "a desperate ploy from a desperate party".
Health Minister Simon Burns told the BBC he was "very confident" it would become law by the spring.
The bill faces a final major test in the Lords on Monday, before being sent back to the House of Commons.
The bill gives GPs and other clinicians much more responsibility for spending the NHS budget in England, and encourages greater competition with the private sector and charities.
The government says changes are needed to make the NHS more efficient and better equipped to deal with challenges such as an ageing population and the rising costs of new drugs and treatments.
But many groups representing medical professionals have come out against the plans, and Labour says such a huge reorganisation should not be forced on the NHS when it is under intense financial pressure.
Meanwhile the Royal College of GPs, which opposes the bill, has indicated it is willing to work with the government on implementing the changes.
Plaid Cymru's health spokesman at Westminster, MP Hywel Williams, said that the bill - which applies to England - would have "significant effects" on Welsh patients who used specialist NHS services in England.
He said longer-term funding problems could arise - because there could be a cut in Wales's funding under the Barnett formula, if health spending in England were to fall.