Cameron and Obama to agree Afghan combat role timetable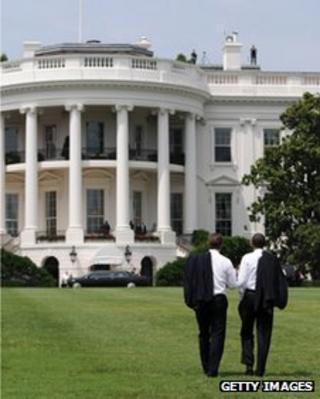 Plans for UK and US forces to leave their lead combat role in Afghanistan next year, are expected to be agreed by David Cameron and Barack Obama during the UK PM's three day Washington visit.
President Obama has said there will be no "rush for the exits" in Afghanistan.
But the two leaders are expected to agree that Afghan forces should take over a lead combat role by mid-2013.
Tensions over Iran and the violence in Syria will also be high on the agenda. Mr Cameron arrives later on Tuesday.
Mr Cameron made his first official visit to the US as prime minister in July 2010. The latest meeting comes ahead of Nato and G8 summits.
'Heart and hand'
In a joint article for the Washington Post, the two leaders said the alliance between the UK and US was "a partnership of the heart, bound by the history, traditions and values we share".
"But what makes our relationship special - a unique and essential asset, for our nations and the world - is that we join hands across so many endeavours.
"Put simply, we count on each other and the world counts on our alliance."
On Afghanistan, they said they would be discussing plans for "shifting to a support role in advance of Afghans taking full responsibility for security in 2014".
But Downing Street would not confirm a detailed timetable for the handover of combat duties to Afghan troops.
The visit comes at a tense time for Afghanistan after an American soldier shot dead 16 Afghan civilians. As an Afghan government delegation visited the site in Kandahar on Tuesday, they came under attack from militants.
Mr Obama and Mr Cameron said they were "proud of the progress our troops have made in dismantling al-Qaeda, breaking the Taliban's momentum and training Afghan forces", but "as recent days remind us, this remains a difficult mission".
British and US combat troops are expected to leave Afghanistan by the end of 2014 and were expected to hand over responsibility for security to Afghan forces by the end of 2013.
But the BBC's political editor Nick Robinson says the moment at which Afghan troops take a "lead combat role" is being gradually speeded up.
Last month US Secretary of Defense Leon Panetta said he expected the transition process to be complete by mid to late 2013 - ahead of the timetable outlined by the UK Ministry of Defence last year. And Foreign Secretary William Hague told MPs last month: "We are firmly on track for the ANSF (Afghan National Security Forces) to have lead security responsibility by mid to late 2013."
Asked if there was an acceleration of the transition, a Downing Street spokeswoman said on Tuesday there were "more discussions to be had" and there would be an "evolution" of the mission.
She said there had been no change in the UK's plans to pull out of Afghanistan by 2014 but was unable to say whether the transition to Afghan control would be completed by the middle of 2013 or the end of 2013.
Shadow defence secretary Jim Murphy said: "The government appears to have an exit date but not yet an exit strategy.
"There is more to leaving Afghanistan than choosing a date. It's also about stabilising that country so the progress that's been made doesn't collapse once international forces leave."
Mr Cameron and President Obama also used the article to restate their condemnation of "the Syrian regime's horrific violence against innocent civilians".
On Iran and its growing tensions with Israel over its nuclear programme, they said they believed there was "time and space to pursue a diplomatic solution".
However, as the US and EU imposed sanctions and embargoes on Iran, they said: "The choice for Tehran will be sharpened - meet your international obligations or face the consequences."
The prime minister will also become the first foreign leader to be welcomed aboard the presidential plane, Air Force One, by President Obama.
They will fly together to Ohio - a crucial swing state in this year's presidential election - to watch a game of basketball.