Council high earners use 'tax avoidance scheme' says MP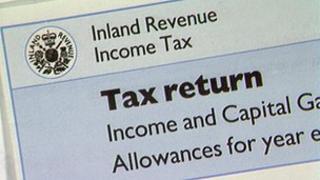 Almost 100 permanent posts at local councils are being filled by people paid through limited companies, the BBC has learned.
Dozens of high-earners are allowed to make their own tax arrangements rather than be paid through the PAYE system.
Public accounts committee chair Margaret Hodge described the situation as a "tax avoidance scheme, which is totally wrong".
The Local Government Association said councils adhere to strict HMRC rules.
BBC Radio 4's File on 4 programme submitted a Freedom of Information request to more than 400 local authorities throughout the UK.
Several councils said they did not know whether all of their permanent employees were paid via PAYE, but some acknowledged they did employ some staff through limited companies.
'Totally wrong'
Hackney Council in London had the highest number, with 39 people in permanent posts paid through external companies.
Hammersmith and Fulham Council in London said 11 posts were filled by people paid through personal service companies, and a number of smaller councils had substantial numbers too.
Craven in North Yorkshire had eight staff paid in this way, while St Edmundsbury in Suffolk and Ashfield in Nottinghamshire each had five.
Some officials may be paying PAYE through their limited companies but they have the option to pay themselves via dividends, which are taxed at a lower rate. The arrangements also mean they can pay national insurance contributions at a lower rate.
The new findings follow the recent revelation that Ed Lester, head of the Student Loans Company was paid through a private firm - an arrangement agreed with tax chiefs.
The chair of the House of Commons Public Accounts Committee Margaret Hodge said her committee would pursue the issue.
"This is a tax avoidance scheme which is totally wrong," she said.
"Where you are a public servant it's not right you should be paid in a way that avoids tax.
"If someone sets up a scheme to avoid paying tax, that is income foregone to the public purse."
Ministers are currently preparing to publish the results of a review on how civil servants are paid.
£900-a-day
Local Government Association chairman Sir Merrick Cockell said councils adhered to strict tax legislation set out by HM Revenue and Customs (HMRC) and had a responsibility to employ skilled staff in a way that provided good value to residents.
"During restructuring both private and public sector organisations sometimes meet short-term staffing needs through interim contracts because it provides flexibility and reduces potential costs, including long-term pension liabilities," he explained.
In one case investigated by File on 4, the chief executive of a London council's housing arm was paid more than £900,000 ($1.4m) through his company over a four year period.
Nick Johnson took up his post with Hammersmith and Fulham Homes Ltd in early 2008 after retiring from Bexley council in south London, where he had been chief executive.
His £900-a-day fee was paid into his company, Davies Johnson Ltd.
After opposition councillors raised concerns about the arrangements, the accountancy firm PricewaterhouseCoopers (PwC) was asked to report on whether the council risked facing a bill for unpaid tax.
In a confidential report seen by the BBC, PwC told the council: "Normally the position of chief executive is considered to be an office holder.
"On that basis there would be a medium-to-high risk that there was a PAYE obligation on Hammersmith and Fulham Homes Ltd."
The report went on to say Mr Johnson's particular duties were such that he might be able to claim his arrangements were lawful - but that the taxman might take a different view.
HMRC 'lacks expertise'
In a statement Hammersmith and Fulham Council said it did not believe Mr Johnson was required to be on its payroll and said a further 10 people were also being paid through private companies.
"We are confident that Hammersmith and Fulham Council's procurement and deployment of 11 individuals via personal service companies is effectively controlled and monitored and that the risk of any PAYE/National Insurance contributions non-compliance has been minimised," it said.
The council said the HMRC had not raised any concerns about the matter. The HMRC says it does not discuss individual cases.
This week tax officials will be questioned by MPs about a National Audit Office report which revealed they were failing to meet targets on tax avoidance.
The "tax gap" between the amount which should be collected and the amount which actually was collected remained the same, at just under 8%.
Mrs Hodge said she feared HMRC lacked the expertise to keep ahead of clever private sector operators who set up complex tax avoidance schemes.
"I think they [HMRC] have to be more ambitious, I think they've got to work harder, and I think they've got to do better at getting that money in.
"Remember, every pound they don't get in will be a pound of additional cuts to front line services," she said.
Listen to the full report on File on 4 on BBC Radio 4 on Tuesday, 13 March at 20:00 GMT and Sunday, 18 March at 17:00 GMT. Listen again via the Radio 4 website or download the podcast.