Should the Royal Navy order ships from Scottish yards?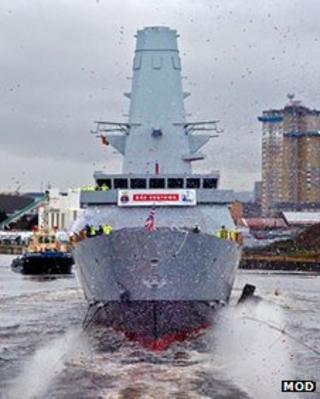 Cabinet Minister David Willetts has joined the debate about whether the Royal Navy should place orders with Scottish shipyards whilst their future in the UK is under discussion.
The Liberal Democrat leader of Portsmouth Council has called for a ban on new orders being given to Glasgow shipyards until after a referendum on independence.
Gerald Vernon-Jackson said it would be "really stupid" to award contracts for British ships that might be built outside Britain.
Portsmouth is currently co-operating with Scottish yards to produce new aircraft carriers, but use of the English yard is under review by defence company BAE Systems.
Devolution debate
Labour has criticised the decision to build new Fleet auxiliary tankers in South Korea.
Their Defence spokesman Jim Murphy backed the Portsmouth call, saying if an independence vote was successful "Scotland would be a foreign country to the Royal Navy".
But David Willetts, who is Conservative MP for Havant, and the cabinet minister for Universities and Science, said that was the wrong way to approach the devolution debate.
On the Sunday Politics he told me "this is a very dangerous way to approach the referendum. We don't want English vs Scots, we mustn't start playing one off against another."
Mike Hancock, the Lib Dem MP for Portsmouth South agreed that comparisons were unhelpful, but argued it was difficult to make decisions about shipbuilding contracts with the "unknown factor" of the referendum.
For the SNP Stewart Maxwell has attacked the loss of 5,000 jobs at yards on the Clyde, saying it was the fault of politicians based in London.
"Clyde Yards win orders because of the excellence of workers," he said.
"The idea that you should stop them bidding for orders is ludicrous.
"This is just frightening ship building workers into voting no in case they lose their jobs."
But Labour's Jim Murphy, also from Scotland, said: "The Royal Navy has never built a warship outside the UK. We need this conversation before the referendum; the SNP has not got an answer."