Why does resignation of Bill of Rights commissioner matter?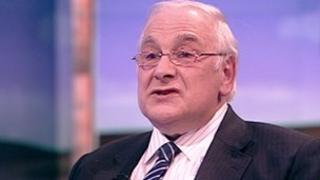 So one of the government's commissioners examining whether a British Bill of Rights is needed is resigning.
Dr Michael Pinto-Duschinsky claims the commission is deliberately ignoring the wishes of the Prime Minister David Cameron.
You are probably thinking 'Why does this matter?'
A man you have probably never heard of resigns from a commission - the Commission on a Bill of Rights - you have probably never heard of.
But at its heart this is about who calls the shots. Who has the last word on human rights - Parliament or judges at the European Court?
Who decides whether prisoners here get the vote? Who decides whether Abu Qatada - the radical Muslim preacher - gets deported?
Mr Cameron has said it's about time Parliament started making the decisions; this commission is looking into that.
But now this from a member of the commission - keen for change - who says he is wasting his time.
'Frustration'
Now I understand some see him as a maverick; an outsider. But, I am told, there is frustration from others who want big change here, more power brought back, and want to advise the prime minister to do it.
But they feel restrained by colleagues on the commission saying "no". When the commission reports at the end of the year, those on it who are right-leaning may even publish a minority report.
There is a recognition at the highest levels among Conservatives in government that whatever the prime minister and many Tories might want, it is not going to happen.
They will not be able to bring powers back on a grand scale. That is the reality of coalition.
This means some Conservative backbenchers are irritated. Plenty grumble privately. Some grumble publicly.
Douglas Carswell is regularly outspoken, but he has told me he thinks Sunday's revelations mean the Justice Secretary Ken Clarke should go.
There are those on the Conservative right who have hinted at this for a while - they see Mr Clarke as too liberal.
The dynamics of managing the coalition - whether it be the Lib Dems on the health bill, or some Conservatives on this issue - do not get any easier.
Compromise means disappointment for many, and delicate people management for the party leaderships.