Tax focus cannot hide Lib Dem split over NHS changes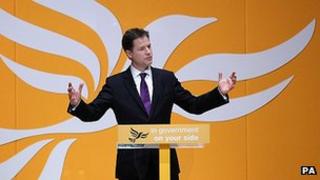 It was the issue that dominated the Lib Dems' weekend gathering; the NHS and the coalition's plan to change it.
The bill is in its final stages but Nick Clegg came to Gateshead and told his party to move on.
The deputy prime minister presented it as virtually done and dusted. Look forward he urged them, "rip off the rear view mirror".
But some still wanted to fight. At 9am on Sunday morning the hall was packed. A sign of how serious they were.
Detractors dominated. There were some supporters, although one was heckled when he claimed significant changes to the bill proved coalition government was working.
When they voted, a clear majority refused to support the bill.
It won't change government policy but - on the face of it - it is a problem for Nick Clegg. His party officially doesn't support the plan as it stands.
'Internal debate'
Another view is that it could help the coalition's junior partner as he seeks to selectively distance himself from the Conservatives.
The flaw in that analysis, though, is that he supported these reforms from the outset.
The deputy prime minister barely touched on it in his keynote speech. Tax was his main focus; less of it for low earners, more of it for high earners.
His "tycoon tax" would mean a minimum rate for everyone of around 20%. It may be written in to law.
Some Tories had taken chunks out of it before he'd even stood up. It was clear it is a Liberal Democrat aspiration at this stage.
Budget negotiations
One senior adviser to the Lib Dem leader admitted as much when I asked about the viability of targeting the super-rich in this way.
As he put it, "it's good to have internal debates about these innovative ideas".
But focusing on fairness in the tax regime and insisting the rich pay more all helps to show voters you're not just an extension of the Tories.
The Budget is another 10 days away but both Nick Clegg and his Liberal Democrat colleague who is Chief Secretary to the Treasury, Danny Alexander, are acutely aware that negotiations between the coalition partners are in the crucial final stages, with David Cameron leaving for his trip to the US on Tuesday.
Plans for a new mansion tax and ditching the 50p rate have been most actively discussed by both sides.
But this conference ended with a split in the Liberal Democrats over the NHS. There are many here who fear the changes will cause significant damage and they fear it is Nick Clegg's side of the coalition which will be blamed for it.