Expenses peer Lord Hanningfield to return to Lords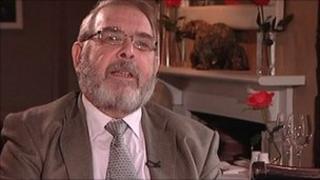 Lord Hanningfield, who was jailed over his expenses, will return to Parliament in April.
The former Essex council leader, 71, convicted of falsely claiming nearly £14,000, was jailed for nine months but released on licence in September.
He was also suspended from the Lords, where the standards commissioner found he hadwrongly claimed £30,254.50.
A House of Lords spokesman confirmed he had now repaid the money he owed and would return after the Easter recess.
However Baroness Uddin, who was suspended from the Lords from October 2010 until April 2012, having been found by a Lords committee to have wrongly claimed £125,349.10, has not repaid the money and faces having her suspension extended.
Daily allowance
The House of Lords cannot remove a peerage, as the Queen asks peers to serve at the start of each Parliamentary session by issuing a writ of summons.
But last year they voted to extend peers' suspensions,on the recommendation of the Lords House Committee, if they still owed money up to one month before their suspension was up.
It followed reports that Baroness Uddin and Lord Hanningfield might return to the Lords and use their taxpayer-funded daily allowance to repay the money owed.
'Benefit of others'
A Lords spokesman confirmed that Lord Hanningfield had now repaid the money owed, so would be able to return once his suspension ended in April.
He was accused of having claimed for overnight stays and travel in London - when in fact he had returned home to Essex.
He resigned as shadow business spokesman in the Lords and had the Conservative whip withdrawn when he was charged.
He told the BBC in November he wanted to put the episode behind him and use his experiences "for the benefit of others".
Baroness Uddin could see her suspension extended until the end of the current Parliament in 2015. If the money is still not repaid, the Lords can extend the suspension further.
Lord Taylor of Warwick, who was also jailed over his expenses last year and suspended from the Lords having been found to have wrongly claimed £24,311.70, had already repaid the sum in full.
He told the BBC in November he wanted to return because he believed he had a "role to play" in reforming prisons.