Caravan crusaders demand justice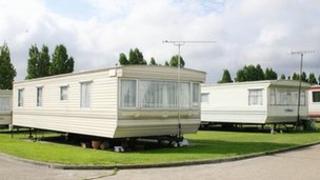 MPs are looking at calls for more protection for caravan park residents against unscrupulous owners. But what can be done?
"I would advise you to spend more of your precious time dealing with more important issues," an angry caravan park owner wrote to David Cameron.
He thought the future prime minister had no need to get involved with a resident's claims of mistreatment.
But Mr Cameron, then just a backbench MP, was not to be deterred.
In a Westminster debate that he called himself in November 2004, the honourable member for Witney, in Oxfordshire, said he was determined not to let the park's owner change the rules.
He had banned anyone under the age from 50 living there and prevented residents from posting "for sale" signs outside their property.
So they complained to their MP about what they saw as heavy-handed treatment.
Mr Cameron was given the brush-off by the owner, who told him in a letter: "It is only a few residents who have nothing better to do with their time who are trying to cause a problem."
But the MP persisted, and informed his colleagues in Westminster Hall he had at last secured a meeting between the owner and the residents.
He went on to attack many of the practices used by land owners to intimidate caravan owners into leaving their homes so that the plots could be redeveloped.
And he urged ministers to "stop the abuse of the rules and the exercise of market power" by toughening up the law.
'Striping'
More than seven years later, a lot has changed for Mr Cameron - his letters usually get a more courteous, even deferential response.
However, the lives of many of the 160,000 park home residents in England have not.
Many complain they are harassed, are not given access to basic amenities and that park owners are "striping" them - taking large commissions on sales - and even preventing them - in favour of more lucrative schemes.
Most housing legislation does not apply. The homes - which often look like small bungalows - are legally classed as caravans.
Residents do not own the land on which their homes are stationed, but pay a pitch fee to the site owner for the use of that land, and for the use of services such as water, electricity, sewage and management of the estate.
So the Commons Communities and Local Government Committee has launched an inquiry into changing the law.
It notes: "Park home living has increasingly been promoted as an affordable alternative to traditional housing, especially for older people, and residents of park homes tend to be older and more vulnerable than the population as a whole."
In other words, people who need protection.
This, the committee adds, is precisely what the law does not currently provide.
Caravan sites have to be licensed by local authorities under the Caravan Sites and Control of Development Act 1960.
This stipulates that they are safe and fit for habitation, by limiting the density of caravans on the site and issues like health and safety.
Yet councils cannot refuse to grant a licence to anyone owning a site - except in exceptional circumstances - and so cannot require standards to be met before issuing one.
And they cannot charge fees for issuing and monitoring site licences, or taking enforcement action if conditions are not met.
The committee realises the cost is prohibitive, saying: "In practice, this severely limits a local authority's ability to provide effective scrutiny of the sector."
'No incentives'
Pauline Jones, a resident at a site in the Bournemouth area, told the committee the owner had failed to install mains gas, despite offers by her and her neighbours to pay for it.
She said: "Our main concern is the cost of heating our homes. Why can we not have the same rights as people who live in bricks and mortar?
"Some residents on our small site are over 80 years of age. None of us want these problems at our time of life. We are still on bottled gas and we had no idea, when purchasing our homes, of how inconvenient and expensive this would be."
She added: "At present, there are no incentives for an owner to do improvements on their sites. The majority just take our pitch fees and do not put this money aside for the upkeep of the work to be undertaken on the site."
Caravan dwellers also report problems when selling their homes. Under law, park owners can charge as much as 10% of the sale cost - and most do.
With the rise in property prices over recent years, this means they get a big cut when "second-hand" homes are sold for us much as £150,000.
But campaigners are wary of trying to change the law as, under current rules, park owners can hike the rent to compensate for any loss of income which might endanger their business.
Costs could rise dramatically.
Residents also have to gain approval of the buyer from the site owner before selling up.
This point of contact has allowed some owners to scupper sales and, instead, sell one of their own empty homes, at larger profit.
Brian Doick, president of the National Association of Park Home Residents, regards it as "stupid" that only civil law is available to protect caravan owner and says legislation needs toughening up, with greater powers of "deterrent".
The maximum penalty the magistrates' court can impose for a breach of site licence is £2,500.
Mr Doick told the BBC: "It's a good way of living. There are some beautiful homes in the country. It's just that so many rogues have got into the industry and created these problems.
"There are some good park owners, some very good, but the bad ones are becoming more and worse."
'Idyllic'
Park owners can still bar buyers on grounds of age - one of Mr Cameron's main complaints. Young buyers are seen as more problematic than pensioners, as they tend to live longer and cut down the number of property transactions.
Another resident of a park in the Bournemouth area, Ken Ayres, told the committee: "As for people who move onto the park without asking neighbours or the like, they mostly look at the glossy magazines that you can find in the Park Home magazine.
"It describes what an idyllic life it is, and an idyllic life it could be if you have the right sort of owner. We have a very good community despite everything else on our park. It also tells you that you can go online and see these wonderful homes, and they do look wonderful.
"They are like modern-day bungalows, but it does not tell you anything about the harassment you are going to get afterwards."
Stephen Gilbert, the Liberal Democrat MP for Newquay and St Austell, in Cornwall, wants potential owners to undergo a "fit and proper" screening before getting a licence, to ensure they have no previous criminal convictions.
He said: "There seems to be a significant minority who use underhand practices. Often the victims are vulnerable people.
"Local authorities are really hamstrung by the powers that they have at the moment."
Since last year, residents with complaints about site owners have been able to go to tribunals, rather than county courts, to resolve disputes at a far lower cost.
And the government promised to "tackle the unscrupulous owners who are failing in their duties and eliminate the unacceptable practice of a small minority of site owners who routinely block sales for their own financial gain".
Back in 2004, Mr Cameron told his fellow MPs: "I have become involved only because the residents were distraught and felt that they had nowhere else to go. The stories they told me, especially about trying to sell their homes, are quite chilling."
They will be hoping the latest developments change things for the better.