NHS bill: Government offers further concessions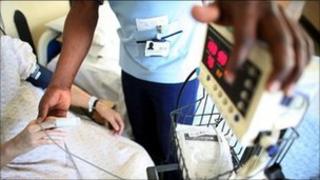 The government has offered fresh concessions over its plans to overhaul the NHS, in an effort to get the legislation through Parliament.
Critics had complained that lifting a cap on private patients in hospitals would mean work was undertaken at the expense of NHS patients.
But health ministers moved amendments to the Health and Social Care Bill, promising "checks and balances".
The bill has had a difficult passage through Parliament.
Several Liberal Democrats have raised concerns, prompting a "pause" last year. The government has also faced problems getting the legislation - which has already been passed by the House of Commons - through the House of Lords.
Under the bill, NHS foundation trusts would have to ensure the majority of their income came from NHS treatments, effectively allowing them to raise 49% from private work.
'Alarmist'
But opponents argue this is too limited a barrier against privatisation.
So the government has tabled an amendment stating that any increase of 5% or more in private income would have to be approved by a foundation trust's council of governors.
The governors would also have to be satisfied that increasing private income would not interfere with the primary duty of providing NHS care.
Most trusts are currently limited to private work amounting to about 2% of their income.
In the Lords, Health Minister Earl Howe acknowledged fears that removing the cap could see trusts "increasing private income at the expense of NHS patients", creating a "two-tier" health service "with those who can afford to pay going to the front of the queue".
'Magic'
But he insisted: "That is wrong and, I believe, alarmist. There are robust safeguards in place to prevent that kind of outcome.
"Allowing a foundation trust to generate more private income does not release it from its prime duty to its NHS patients."
For Labour, Baroness Thornton welcomed the change as a move in the right direction, but urged ministers to ensure there was no possibility of "cross-subsidy" from the NHS to the private sector either directly or through some "accountancy magic".
Labour tabled its own amendment, aimed at deleting the clause of the bill which calls for the ending of the cap on private income for the NHS.
But this was defeated by 58 votes after Lord Howe warned it would effectively end the duty on trusts to remain "predominantly" NHS providers.
The government's concession comes ahead of a potential revolt over the health reforms for England at this weekend's Liberal Democrat spring conference.
Activists are calling for the legislation to be scrapped.