Ed Balls: Labour would back mansion tax to fund tax credits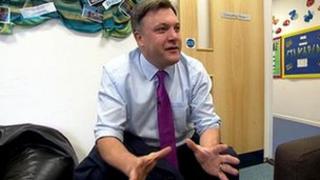 Ed Balls has told the BBC that Labour will support the chancellor if he introduces a mansion tax in the Budget.
The shadow chancellor toldBBC political editor Nick Robinsonthat the details had to be right so people were "not thrown out of their homes".
"If the chancellor wants to go down that road then we will support him... let's work together," Mr Balls said.
But he said any money raised should be spent on reversing cuts to tax credits and not cutting the top rate of tax.
The Lib Dems have previously floated the idea of a "mansion tax" on property or land assets over a certain value.
Business Secretary Vince Cable said earlier on Thursday that he was "pretty confident" there would be a shift in tax from income to wealth. He added, however, that this might not take the form of a mansion tax.
'Out of touch'
But Mr Balls said he could back the idea, asking: "The issue is what's the purpose? If the purpose is to help families facing higher tuition fees, higher VAT or higher fuel bills - for example boosting their tax credits - yes.
"But if the priority is, as (Chancellor) George Osborne seems to be saying, that he will only use the mansion tax to help people on incomes above £150,000, I say that is out of touch with the struggle families are facing and won't help get people into jobs."
The shadow chancellor said he no longer believed that the 50p tax rate should start at a lower income - £100,000 a year and not £150,000 - as he argued in the Labour leadership election.
Earlier on Thursday Business Secretary Vince Cable, a Lib Dem, said he was "pretty confident" there would be a shift in tax from income to wealth.
On BBC One's Question Time, Conservative Local Government Secretary Eric Pickles said: "This is a matter for the chancellor and I'm sure he will come to a sensible solution."
On Mr Cable, he added: "He's indeed a soothsayer of some importance, but I'm just a functionary who would make things happen, but it would be very difficult to do so... It's a coalition and all views are welcome."
The Budget takes place on 21 March and Mr Osborne has asked HM Revenue and Customs to see how much the tax is raising - or whether avoidance measures mean it is not bringing in extra money.