Ministers suffer three new Lords defeats on legal aid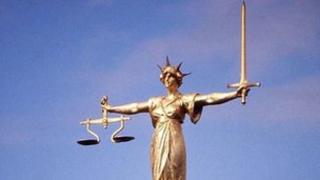 The government has suffered three fresh House of Lords defeats over its plans to reform the legal aid system.
Peers voted to protect free advice when people seek to challenge cuts to their benefit and when they appeal to a higher court against verdicts.
They also backed an amendment to the legal aid demand that help be kept for obtaining expert reports in clinical negligence proceedings.
Ministers suffered another three Commons defeats on legal aid on Monday.
The government wants to save £350m from the Ministry of Justice budget by 2015.
Opponents argue that cuts outlined in the Legal Aid, Sentencing and Punishment of Offenders Bill will damage people's rights, but the government says this is untrue.
'Greek parliament'
The amendment, proposed by Lib Dem Baroness Doocey, on legal aid for benefit cut challenges, passed by a majority of 39.
A second version, extending the right to appeal cases in higher courts, then passed by 28 votes.
And an amendment relating to clinical negligence got through by a majority of six.
But ministers defeated by six votes a motion proposed by crossbencher and former Paralympic athlete Baroness Grey-Thompson to bring all - not just some - aspects of clinical negligence cases back within the scope of legal aid.
Responding to the three defeats, a source close to Justice Secretary Ken Clarke told the BBC: "It's yet another example of Labour peers behaving like they're in the Greek parliament, not the House of Lords."
They added: "Everyone agrees that action has to be taken to tackle the deficit, but when it comes to the tough decisions that bring the spiralling cost of legal aid under control, they shrink."
On Monday, peers backed an amendment urging the protection of victims of domestic violence from funding cuts, and others on access to services and appointing a new official to oversee the system.