Cameron's dividing line on access to information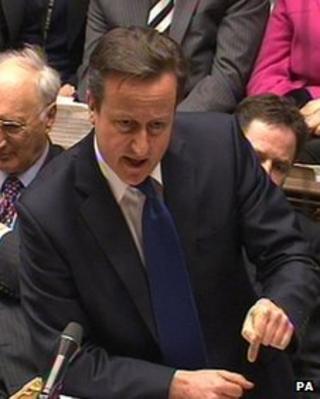 Real freedom of information is about "the money that goes in, the results that come out", as opposed to "FOI requests that are all about processes".
That's the view of David Cameron, which he expressed yesterday at the end of his evidence session in front of a House of Commons committee.
He distinguished between the increased transparency that derives from the publication of data (such as crime maps, local government spending and public sector contracts), which he is enthusiastic about, and what he called "the endless discovery process" of responding to FOI requests, which clearly doesn't appeal to him quite so much.
'Increasingly reluctant'
Perhaps this opinion is not surprising, given that the government has this week been fighting a tribunal case to avoid being forced to release its risk register for the current NHS legislation. The top civil servant at the Department of Health told the tribunal that publishing the register could lead to similar documents being toned down in future.
It's not the first indication that Prime Minister Cameron is becoming "the heir to Blair" in his attitude to freedom of information. We've already had reports of remarks in which he's said that due to FOI, "officials and ministers are increasingly reluctant to put on paper what they actually think".
Some advocates of openness will undoubtedly see Mr Cameron's distinction as really a dividing line between what the government wants to tell you and what you want to know, but it does raise a fundamental question about the purpose of greater state transparency. Is it about greater accountability in the delivery of public services, or it is about opening up the decision-making process?
Resistance
I was one of a number of journalists who gave oral evidence last week to the Commons Justice Committee, which is currently conducting an inquiry into the workings of FOI (so far only the uncorrected transcript is available). We were asked why the law had not had more impact on the quality of public debate.
My answer was that while FOI has made it much easier to obtain facts and figures about the performance of public services, it has had nothing like the same reach into the policy-making process and internal discussions. This is the area where ministers and officials have much deeper concerns about the impact of disclosure and requests have met greater resistance.
Mr Cameron's stance can be seen as an illustration of what one international academic authority on FOI, Professor Al Roberts, has called "executive pushback" - attempts by political leaders to counter or undermine FOI laws.
Backlash
The starkest example of this has been in Ireland, where the government introduced up-front fees for making freedom of information requests. In the US successive presidents have fought battles over the scope of FOI. And in India currently there are efforts to constrain the extent of the right to information law which has featured in numerous controversial disputes between citizens and officials.
On the other hand, another expert David Banisar argues that many countries with FOI laws have not experienced the same kind of political backlash.
The Commons Justice Committee is continuing with its inquiry, and the outcome should influence where the future of FOI in the UK will lie.