Whitehall department savings scheme overspent by £500m, says report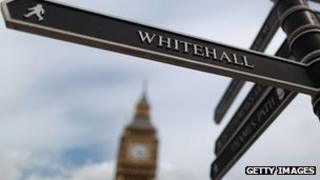 Whitehall departments have been criticised for overspending by £500m on schemes that were actually intended to save money.
The National Audit Office (NAO) found ministers had failed to offer "clear management" for the setting-up of pooled resource centres aimed stopping costs being duplicated.
None of the schemes looked at had broken even.
But the coalition was trying to sort out the problems, the NAO said.
In 2004, Tony Blair's Labour government promised to set up cost-saving centres to save £159m by sharing "back-office" functions such as information technology, personnel and procurement between departments.
The NAO said the initial start-up costs had been put at £900m but, by 2011, had increased to £1.4bn.
And net savings had not been made as a result of the schemes.
'Shockingly familiar'
The NAO's report blamed a combination of poor co-ordination, over-expensive IT systems, weak or non-existent sanctions and an insistence on highly tailored services saw public-sector costs rise instead.
It added that private-sector firms typically slashed a fifth off their annual spending within five years of using similar methods.
The report found that the Maritime and Coastguard Agency was blocked from joining the Department for Transport scheme because it did not have security clearance for Whitehall IT systems.
Another unit, set up by Research Councils UK, recorded a net cost to the taxpayer so far of £126m - though the NAO said a parallel scheme may help it break even by 2014.
Two of five schemes examined - at the Department for Work and Pensions and the Department for the Environment, Food and Rural Affairs - had not kept track of whether or not the changes were saving money.
But another, run by the Ministry of Justice, was saving £33m a year and had broke even ahead of schedule - at which point officials there also stopped monitoring performance.
In total, eight projects have been set up in various departments.
Labour MP Margaret Hodge, who chairs the Commons Public Accounts Committee, said the overall figures provided "a shockingly familiar story of spiralling costs and poor value for money".
NAO head Amyas Morse said: "The initiative for government departments to share back-office functions has suffered from an approach which made participation voluntary and tailored services to meet the differing needs of individual departments.
"The result was over-complexity, reduced flexibility and a failure to cut costs."
He acknowledged the efforts of the current government to create a "strategy on shared services acknowledges these issues but, if it is to achieve value for money, it must learn the lessons from past implementation.
"Only in this way can the sharing of back-office functions have a realistic prospect of contributing towards the government's drive to cut public spending in the long-term."
A Cabinet Office spokeswoman said: "The NAO report shines a light on inefficiencies dating back to 2004 which the government is already taking steps to address.
"An unwavering determination to eradicate waste in Whitehall has put the Government firmly on track to make around £5bn in cash savings this year, an even greater number than last year's savings of £3.75bn.
"A Major Projects Authority - set up under a mandate from the Prime Minister - was created in 2010 and introduced tough new controls for major projects to manage risk. The new approach to shared services will be overseen by this authority to ensure it delivers for taxpayers."