Ken Clarke defends 'secret court cases' proposals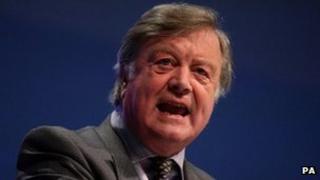 Civil court cases will only be held in secret in "very limited circumstances", Justice Secretary Ken Clarke has said.
Thegovernment has published plansto give ministers the power to order such hearings for some proceedings involving national security.
Writing in the Daily Mail, Mr Clarke said this would apply to only a "tiny" number of civil cases and inquests.
Critics have voiced concerns that the measures, outlined in a Green Paper, could be more widely used.
Sensitive information
Mr Clarke hinted that the government would reduce the range of civil cases and inquests that could be affected by the plans.
He has published steps to give ministers the power to order "closed material procedure" to try to protect the disclosure of some highly sensitive information in hearings.
The proposals came after legal action was taken against members of the intelligence services over claims they were complicit in the torture of UK residents who had been subject to extraordinary rendition as terror suspects.
But critics claimed it could lead to closed trials in secret for a broad range of proceedings such as the inquests of British soldiers killed in action or the inquests into the deaths of the 7/7 suicide bombers.
Mr Clarke said in the Mail, which has campaigned against the proposals, that under the plans there would be no change to anyone's right to make allegations public.
He said courts would continue to hear the vast majority of cases in the open.
'Absolutely clear'
Closed hearings would be limited to evidence that would genuinely endanger the most sensitive information that the government relied on to protect the public, he added.
Mr Clarke said: "I have heard, loud and clear, the fears from many campaigners including special advocates, that the government's proposals are too broadly drawn and might even mean that the likes of the Stephen Lawrence trial and de Menezes case could end up in secret.
"That's not what anyone wants - and it's why I want to use the consultation period for our proposals to make one thing absolutely clear: the reforms we are proposing will apply only in very limited circumstances, in a tiny number of civil cases, where public safety could otherwise be put at risk."
Sources close to the justice secretary said it was likely that when the consultation process finished, and the government issued a formal response to the Green Paper, it would be far more specific on the range of cases and issues that could be affected.
'Change course'
But Clare Algar, executive director of human rights group Reprieve, said the proposals "would wreck our justice system and put politicians and officials above the law".
"Ministers clearly have not thought this through. They must now listen to reason and change course," she said.
Shami Chakrabarti, director of civil rights group Liberty, said it would continue to fight against the proposals.
She said: "I've always had great respect for Ken Clarke, but this policy was never truly his own.
"As a former government lawyer, I know the old trick of starting with such a sweeping proposal that any concession makes you look more reasonable.
"Even if this policy were limited to so-called national security cases, the 7/7 inquest would have been shut away from the public and victims' families.
"The government can't point to a single case where judges have compromised state secrets under the current law. The fight goes on."