House of Lords backs health bill compromise amendment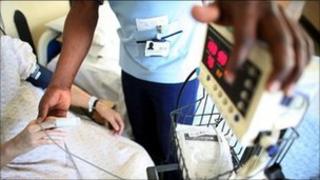 Plans to change the way the NHS in England is run are set to become law within weeks, after the government won a series of House of Lords votes.
Ministers agreed that the Competition Commission, which normally deals with business, would not have to conduct reviews of competition between providers within the health service.
The amendment, first suggested last week by Deputy PM and Lib Dem leader Nick Clegg, passed without a vote.
Three Labour amendments were defeated.
The Health and Social Care Bill aims to give GPs control of much of the NHS budget and would open up the health service to greater competition from the private and voluntary sector.
'Clarity'
But opponents say this will mean privatisation of much of the service.
They argue that the government has failed to win over the public and health professionals, and that this would be disruptive while the NHS is having to make big savings.
Liberal Democrat activists are attempting to hold a vote on axing the bill - which is also opposed by Labour - at the party's spring conference later this week.
The government amendment was suggested in a letter written last week by Mr Clegg and senior Lib Dem Baroness Williams.
It is aimed at bringing the bill into law without further delay. Ministers have lost several Lords vote on the issue in recent weeks.
Labour said the government's concessions were little more than a "fig leaf" and would not win the support of the wider Lib Dem membership.