Vince Cable confirms 'negotiations' over axeing 50p tax rate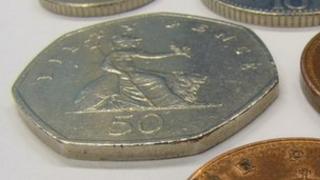 Business Secretary Vince Cable says replacing the 50p tax rate with some form of wealth tax is among a "complex set of negotiations" within the coalition ahead of the Budget.
The Lib Dems were not "ideologically wedded to the 50p tax rate", he said.
But he added that if it were to go, it "should be replaced by taxation of wealth".
Business organisations and many Tory MPs want the 50p tax on earnings over £150,000, brought in by Labour, axed.
The Budget takes place on 21 March and Chancellor George Osborne has asked HM Revenue and Customs to see how much the tax is raising - or whether avoidance measures mean it is not bringing in extra money.
'Sensible'
But Liberal Democrats have warned against axeing the 50p tax rate too soon.
Despite perceived differences between the coalition partners, Mr Cable has said there is a "broad understanding" that, if it is dropped, it should be replaced by some form of wealth tax.
He told BBC Radio 4's Today that, while the exact nature of the tax was currently being negotiated, a "mansion tax" on very expensive homes was an "economically sensible way of doing it".
Mr Cable said: "If that (the 50p rate) were to go, it should be replaced by taxation of wealth, because the wealthy people in the country have got to pay their share, particularly at a time of economic difficulty.
"How exactly that is configured is a detailed matter for negotiation. But that principle must be upheld, and a mansion tax actually is a very economically sensible way of doing it.
"But there are different ways of doing it. It can be done through local government as well as central government. And providing the principle is accepted - that taxation should be related to property - and there are vast numbers of extraordinarily valuable properties now around in the south of England, netting very large gains for their owners, many of whom come from abroad incidentally.
"And it's not taxed at all. Basically you get people with multi-million-pound properties paying exactly the same council tax as someone in a three-bedroom semi. So the system doesn't work."
Mr Cable said the Lib Dems' tax priority remained increasing the level at which people started paying tax on their earnings to £10,000.
Labour leader Ed Miliband said of the mansion tax: "I think it's an idea that the government should look at, but I don't think it should be used as an excuse to cut the 50p tax rate.
"If they decide to go ahead with it - and the devil is always in the detail - they absolutely shouldn't use it as a way of sort of cutting taxes on high earners."
On Sunday, shadow chancellor Ed Balls said a future Labour government might decide to axe the 50p tax rate at some stage but questioned the idea of doing so now, asking: "Do we really think families on £150,000-plus are the first priority?"