Farewell Steve Hilton, the PM's most unconventional adviser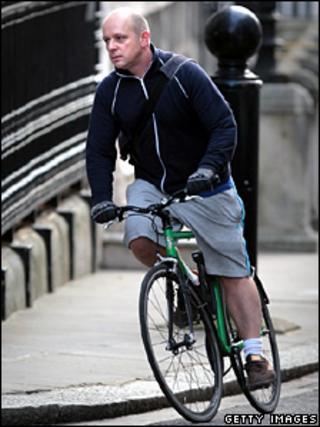 So farewell then, Steve Hilton*.
Downing Street won't be the same when you head off to California.
Gone will be the man who greeted President Obama in his socks and who walked the corridors of power in shorts and a T-shirt.
Gone will be the person prepared not just to think the unthinkable but to challenge officials and ministers to explain why it couldn't or shouldn't be done - like scrapping maternity rights to make it cheaper for businesses to hire new workers, building a new airport on an island to the east of London or going to war with the EU to escape its bureaucratic rules.
Gone will be the friend who calls the prime minister "Dave" and is willing to challenge him for not being clear enough nor impatient enough about how he wants to change the country.
When they get home tonight there will be civil servants and Liberal Democrats who will secretly raise a glass and hope that yours is a one-way ticket to the United States and not just a year's sabbatical.
They will tell their friends and families that you were not an easy man to get along with.
They will whisper that they've heard that you were the man who told the Times that the health secretary should be "taken out and shot" for his failure to sell the NHS reforms.
Your friend Dave has coped without you before - when he was leader of the opposition and you took an American sabbatical.
Your departure this time, though, will further increase the power of two men in this government - the Cabinet Secretary, Sir Jeremy Heywood and the Chancellor, party strategist and Dave's other best political friend, George Osborne.
* Downing Street have just announced that "Steve Hilton will be taking an unpaid academic sabbatical at Stanford University, starting this summer and returning next summer. With his wife and young family, Steve will be moving to California. He will join Stanford as a visiting scholar at the university's Freeman Spogli Institute for International Studies (FSI), and will also be a visiting fellow at Stanford's Hoover Institution. He will spend his year on campus teaching, researching and writing, and will focus on innovation in government, public services and communities around the world".