Bradford West MP Marsha Singh to stand down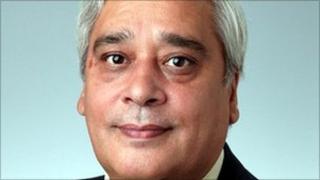 Labour MP Marsha Singh is to resign, citing "serious health problems", opening the way for a by-election in his Bradford West constituency.
Mr Singh was elected in 1997 - the year of Tony Blair's landslide victory. His seat has been in Labour hands since 1974.
Labour sources say they will press for the by-election to be held quickly, in late March or April.
Mr Singh said he had been suffering with health problems for months.
"It has become clear that it is going to take much longer than I'd expected to recover."
The 57-year-old MP held the seat with a majority of just under 6,000 over the Conservatives in 2010 - winning 45% of the vote.
Inan interview with his local newspaper, the Bradford Telegraph and Argus, he said: "I have been very much a Bradford MP rather than a Westminster MP. This is where my home and my heart is."
'Greatly missed'
The backbencher told the newspaper his proudest achievement had been his Community Care (Residential Accommodation) private member's bill in 1998 - restricting the amount of capital a local authority can take into account when deciding whether someone is entitled to residential accommodation.
He has been a member of the home affairs and international development select committees and was briefly a parliamentary aide to former Labour Home Office minister Phil Woolas.
Labour leader Ed Miliband paid tribute to Mr Singh's "tireless work for the people of Bradford West".
"He is a man who entered politics for all the right reasons - to make a positive difference to people's lives and to stand up for social justice in the community where he grew up," he said.
"He will be missed greatly by his parliamentary colleagues."
Mr Miliband added: "His priority now has to be to concentrate on regaining his health - and I wish him all the best on his long road to recovery."
Mr Singh said: "This is a sad day for me. I have been extremely proud to represent the people of Bradford West for the last 15 years.
"I'm passionate about Bradford. It is where I grew up and where my children were born, so it has been a great privilege to be asked by the electorate at four general elections to be their voice in Parliament."