Clegg fails to reassure Lib Dem activists over NHS bill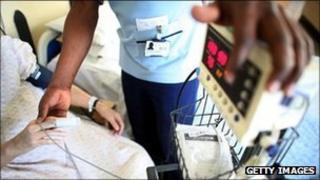 Lib Dem activists will press for a vote on axing the NHS bill at next week's spring conference - despite Nick Clegg's efforts to reassure his party.
The deputy PMput forward changeson Tuesday which he said should allow the bill to proceed and reassure Lib Dems.
But activists will press for a motion urging the "deeply flawed" bill to be "withdrawn or defeated".
Labour's Andy Burnham said Lib Dems were "right to challenge the leadership of their party" on the issue.
But sources close to Mr Clegg told the BBC they believed the motion would be defeated, if selected for debate, once activists see the level of support for the amended bill among Lib Dem MPs and peers.
The motion says theHealth and Social Care Billfor England, cannot be made "fit for purpose" by further amendments.
Party unease
The bill aims to give GPs control of much of the NHS budget and would open up the health service to greater competition from the private and voluntary sector.
But activists say the controversial shake-up of the NHS in England has failed to win over the public and health professionals and would be disruptive at a time the NHS is having to make big savings.
The motion has first to be accepted by organisers of next week's conference in Gateshead if it is to be debated.
BBC News Channel chief political correspondent Norman Smith said it was a significant setback for Mr Clegg's attempts to overcome unease within his party over the plans.
'Stage-managed posturing'
In a letter to Lib Dem MPs and peers, also signed by Baroness Williams, Mr Clegg set out five changes they wanted to see in the bill, which is being debated by peers this week.
Mr Clegg added that "once these final changes have been agreed, we believe conference can be reassured that it has finished the job it started last March and the bill should be allowed to proceed".
Labour's shadow health secretary Andy Burnham, who was protesting against the bill outside Mr Clegg's Sheffield constituency office on Thursday, said: "It is now clear that prominent Lib Dems are not at all convinced by Nick Clegg's stage-managed posturing on the Health and Social Care Bill.
"I pay tribute to those who have put principle before politics and spoken out. They are right to challenge the leadership of their party and represent the views of ordinary Lib Dem voters."
He urged Lib Dem rebels to "work with us" and said Labour was urging Mr Clegg to drop the controversial third part of the bill - which opens up the NHS to more competition from private and voluntary sector providers - to "minimise the damage of this bill".
Dr Graham Winyard, who was the chair of the Winchester Lib Dems and a member of the party's health committee, resigned from the party on Thursday, warning Mr Clegg that his support for the bill would be "a slow-motion disaster" for the NHS and the party.
Dr Winyard, a former deputy chief medical officer for England, said Mr Clegg had urged him to "soldier on regardless" but he felt it more appropriate to resign.