Argentina pursuing policy of confrontation, says No 10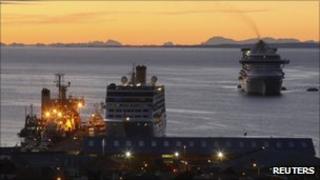 Downing Street has accused Argentina of pursuing a "policy of confrontation" over the Falkland Islands.
It comes amid reports that top Argentine companies are being told by their government to stop importing goods from the UK.
PM David Cameron's spokesman said the move was "counterproductive" and was a misreading of British resolve over the disputed islands.
Tension has been rising ahead of the 30th anniversary of the Falklands War.
According to the state news agency Telam, industry minister Debora Giorgi called the bosses of at least 20 firms to urge them to replace imports from Britain with goods produced elsewhere.
Meanwhile, Argentina's top diplomat in the UK - Osvaldo Marsico - was summoned to the Foreign Office on Wednesday to explain the import ban.
A Foreign Office spokesman said: "We made clear that such actions against legitimate commercial activity were a matter of concern not just for the UK, but for the EU as a whole, and that we expect the EU to lodge similar concerns with Argentine authorities."
Officials were also expected to discuss Argentina's decision to turn back two cruise ships from the Argentine port of Ushuaia on Monday, apparently because they had visited the Falklands - which Argentina claims as the Malvinas.
Mr Cameron's spokesman told reporters at a regular briefing in Westminster: "It is clearly very sad that Argentina continues with their policy of confrontation instead of co-operation.
"We think that is counterproductive and also a complete misreading of Britain's resolve on this issue.
"The UK is also a major investor in Argentina and we import goods from Argentina. It is not in Argentina's economic interest to put up barriers of this sort.
"The right approach here is one of co-operation, not confrontation," he added.
Buenos Aires has complained to the United Nations of British "militarisation" of the south Atlantic after the deployment of a new Royal Navy warship to the Falklands and Prince William's tour of duty on the islands.
The UK, which has controlled the Falklands since 1833, says there can be no negotiations on sovereignty as long as the 3,000 Islanders wish to remain British.
On 2 April, both nations will mark the 30th anniversary of the Falklands War, which began with an Argentine invasion of the islands and ended in victory for a British task force sent to recover them.