UK MPs to stage debate over Russia's human rights record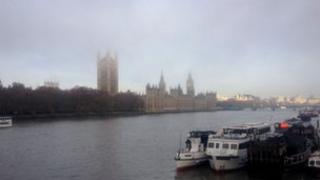 Three former foreign secretaries are backing a Commons debate and vote on Russia's human rights record which will take place next week.
It is widely expected that Prime Minister Vladimir Putin will return as President in this weekend's election.
The Commons debate will focus on the case of Sergei Magnitsky, a Russian lawyer investigating tax fraud who was found dead in Moscow in 2009.
MPs claim it illustrates deeper and wider human rights problems in Russia.
The debate was granted after a request by Conservative Dominic Raab and former Labour Foreign Secretary David Miliband to the Commons Backbench Business Committee.
'Wider culture'
"I took up the Magnitsky case when I was foreign secretary in 2009 and I visited Moscow," Mr Miliband told the committee.
It was a "symptom of a wider culture of the abuse of human rights defenders", he added.
"This is not about Russia-bashing but support for a Russia fit for the history of that country," Mr Miliband also said.
Sitting alongside Mr Miliband in front of the committee was the Conservative MP Dominic Raab, a former international lawyer.
Mr Raab would like a presumption in favour of asset freezes and UK visa bans for officials of the Russian state and other countries where there was evidence linking them to such abuses.
He has the support of all the former foreign secretaries still in the House of Commons - Labour's Jack Straw, Conservative Sir Malcolm Rifkind and Mr Miliband - in holding next week's debate.
Mr Magnitsky was a corporate lawyer hired by a British firm to investigate tax fraud who was found dead in a Russian prison cell in 2009.
The Foreign Office says it has urged the Russian government to bring those responsible to justice. A spokesman said the UK can already refuse entry to any person if their presence would not be conducive to the public good.
The debate will happen in the evening on Wednesday 7 March, and is likely to last about two hours.