Work experience and the Socialist Workers Party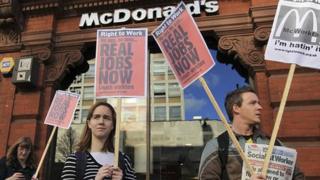 Is it all the work of a small group of communists intent on ruining the life-chances of young people? Or is it simply a case of business taking notice of widespread unhappiness about "slave labour" and changing its ways?
Welcome to the public debate about the decision by some of the UK's biggest firms to leave the government's work experience scheme.
Passions are raging, with the Left and Right accusing each other of betrayal, skulduggery and misinformation.
The scheme, aimed at 16 to 24-year-olds on jobseeker's allowance in England, Scotland and Wales, allows them to do unpaid work experience with a company for up to eight weeks without losing their benefit and potentially with some expenses paid.
But if jobseekers chose to take part and then failed to turn up without good reason after the first week, they had faced the threat of having their benefits docked for a period. This has led critics to question, very loudly, whether the placements were really "voluntary".
Companies such as Burger King and Waterstones have left.
Tesco is staying in but offering its own parallel programme, with a guaranteed permanent job at the end of it, provided those taking part perform satisfactorily.
'Upsetting'
Conservative MPs and newspapers including the Daily Mail and Daily Telegraph have accused the Socialist Workers Party (SWP) of orchestrating a campaign to undermine the government's scheme.
Mail columnist Melanie Phillips writes: "The SWP is a marginal, far-left revolutionary grouping of placard-toting obsessives and droning Marxist bores which until very recently had zero public impact except in the context of raucous and occasionally violent demonstrations.
"Yet, astonishingly, it has all but derailed a key government policy designed to bring jobless youngsters back into the workplace."
The group organising much of the opposition to the work experience scheme - including a recent demonstration which closed the branch of Tesco next to Parliament - is called Right to Work. Opponents claim it is a front for the SWP.
But Right to Work insists it is a far broader coalition, with backing from across the trade union movement and other affiliated groups. On its website it does not even list the SWP among its official backers.
A Right to Work spokeswoman said: "The SWP supports Right to Work, but they are not running it."
There is, then, at least a crossover of personnel and aims.
So, what does the SWP stand for?
Founded in 1977 as a group opposed to Western capitalism and what was described as the "state capitalism" of the Soviet bloc, it describes itself as "possibly the largest far-left group in Britain".
The SWP calls for society to be "completely transformed". Other current campaigns include "solidarity" with anti-cuts protesters in Greece, "fighting for our NHS" and opposing "fascism".
It advocates direct action by workers to improve society. But, unusually for a political party, it admits: "Until recently the SWP had not run candidates in elections since the 1970s."
The SWP says it is expanding into electoral politics, putting up some candidates in the forthcoming local and London Assembly elections.
But national secretary Charlie Kimber told the BBC: "We are not a mass party yet. We have a membership of some thousands and we want to get this into tens of thousands."
He added: "We have got popular support. The response from people [to the anti-work experience scheme campaign] has been great. The companies themselves have received hundreds of thousands of responses from people...
"The government doesn't like the fact that the multinational companies are running scared. The Mail's asking for the corporations to 'show some backbone'. The truth is that the corporations have seen the reality of what's going on out there and they are nervous about supporting a scheme that's very unpopular."
'Spooked'
The work experience debate has propelled the SWP to greater coverage - and derision from its enemies.
Mr Kimber said: "There's nothing wrong in us supporting an extra-parliamentary campaign. I don't remember any of the press complaining when the Countryside Alliance did these sort of things.
"When The Sun described us as their 'villain of the week', I was delighted. If we are upsetting The Sun we are doing something right... To be ignored is the worst thing."
Government supporters argue that the work experience scheme is popular with the public, the bulk of whom want people to get into work, cutting benefit expenses and restoring pride to a potential "lost generation" of young people.
Conservative MP George Eustice told the BBC that a campaign urging people to send protest emails to firms which joined the scheme had had a disproportionate effect.
He said: "The truth is that large companies have been spooked by a handful of protesters. That's what's led to their decision to leave the scheme.
"Their views are not at all representative of public opinion. The SWP is a leftist organisation that doesn't like democracy or the free-market economy.
"Its mode of operating is very much one of entryism, with small numbers of people seeming larger than they are, using email campaigns and other methods.
"One of the problems is that these firms, although they have very fierce commercial environments that they compete in, are not very used to political criticism."
'Commitment'
The latest figures show 1.04 million people aged 16 to 24 in the UK are not in education, employment or training.
The government argues that its work experience scheme can help right this wrong.
Employment Minister Chris Grayling has described protest against it as "false" and former Marks & Spencer chief Sir Stuart Rose has accused demonstrators of "sabotage".
Of the 34,200 people who took part in the scheme between its launch in January 2011 and November that year, the government says only 200 had their benefits docked.
Mr Eustice said: "These companies are actually doing a good turn for these people. They're helping them get back on the job market.
"This is a voluntary scheme. Basically people have a week where they can experiment with the work. If they then decide to commit, they can commit for about four weeks, and they are expected to commit. Work is about commitment. It's about turning up on time and being reliable. That's not unreasonable to ask.
"These companies have made the work experience issue a story by pulling out. They need to show a bit more backbone."
Many people's abiding image of the SWP will be of activists out on the street at weekends, trying to shift copies of the Socialist Worker.
Mr Kimber said: "We do rather more than selling newspapers."
But as all publishers, whatever their political persuasion, know, nothing sells like a row. Ministers and activists seem quite happy to provide one.