Ex-Serjeant-at-Arms Jill Pay on Rupert Murdoch and parliamentary security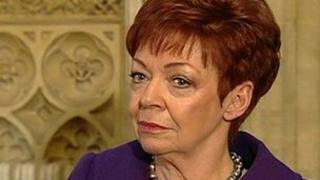 The woman in charge of parliamentary security when media boss Rupert Murdoch was attacked by a protester wielding a foam pie has revealed: "I actually thought he'd had a heart attack."
Jill Pay, the former Serjeant-at-Arms, remembers being told about "an incident" while Mr Murdoch was being questioned by MPs last August over allegations of phone hacking at the News of the World and other newspapers.
Mrs Pay, who has now retired, told BBC Radio 4's The Westminster Hour: "I was in a meeting, somebody rushed in to tell me."
The protester, Jonathan May-Bowles, had walked up to Mr Murdoch and splatted a plate full of shaving foam in the octogenarian's face, prompting his wife, Wendi Deng, to spring to her husband's defence.
May-Bowles was later found guilty of an assault on the News Corp chief executive.
Asked whether she fell responsible for the breach of security during the Culture, Media and Sport Committee, Mrs Pay replied: "I couldn't have held that man's hand and stopped him putting the foam on the paper plate and going towards Rupert Murdoch.
"My personal view is that he would've done it even without the foam. His intent was to disrupt that meeting and get some personal publicity."
'Not naive'
On the quality of media coverage she received as result, she said: "Fair doesn't come into it."
In January 2008 Mrs Pay became the first woman to hold the post of Serjeant-at-Arms, which was created in 1415.
This involved overseeing security and came with a uniform and even a ceremonial sword.
Mrs Pay hit the headlines 10 months after taking the job, when police were allowed to search the parliamentary office of then shadow immigration minister Damian Green, despite not having a warrant to do do.
MPs were furious.
The then Speaker, Michael Martin, told the House he thought Mrs Pay had been "bamboozled" by police, and she later said she was "deeply sorry" for what had happened.
But a subsequent report by the Commons Privilege Committee spread the blame more widely, criticising the "seriously inadequate communication" between Mrs Pay, Mr Martin and Clerk of the House Malcolm Jack.
There had been "no excuse" for not following proper parliamentary procedure it added.
Asked again about Mr Martin's comments, Ms Pay told Westminster Hour: "I don't think I'm naive in any respect."
But one episode which still haunts her is the student demonstration in late 2010 against the increase in university tuition fees.
She said: "That was one of the most challenging days. When Parliament Square was full of those people, the aggression was absolutely tangible.
"That was quite terrifying. It would only have taken a very small group to endeavour to get in and that would've been it."
However, Ms Pay argues that she possesses the same sense of sang-froid as her predecessors in the job, most of whom were ex-military men.
"I don't get nervous. I have this in-built ability that the worse the situation gets the calmer I become. Maybe later I think 'Oh my God, where's the gin and tonic?' But at the time I just think it's a waste of time to panic. And I do have a backbone of steel."
Ms Pay, 65, reveals that Prime Minister's Questions is usually the most stressful event to police.
"It's the highest-risk half hour of the week, so I was focussing on the security arrangements that we have in place to be sure that there was going to be no protest or disorder in the galleries: there weren't going to be any problems in the chamber. "
The challenges of keeping Parliament orderly and safe remain.
'Pure speculation'
"Whoever is intent on disruption, whether it's a terrorist or a protester, they will be a few steps ahead. So they just have to be lucky once. We have to be thinking about it and concentrating on it all the time....
"When we had Greenpeace on the roof of Westminster Hall, from the police's discussions with the protesters afterwards, they'd be planning that for 18 months and they'd rehearsed it off-site where they'd built a similar facade.
"So when you're up against that kind of intellectual planning then it's very, very hard work and you have to think about the risks and how you're going to mitigate them."
Does Mrs Pay have any regrets?
She admitted "mistakes" but contended that she "would have done it the same" had she had her time again.
It has been reported that Ms Pay resigned because her relationship with the current Speaker, John Bercow, had deteriorated beyond bearability.
But she said: "I decided that I wanted to live a more carefree life and to take on all sorts of new challenges. So it was a very hard decision to make and I thought about it long and hard for several months. Any other reason that you may have read about is pure speculation...
"That was reported in the media. I rise above that.... It's pure speculation."
And how is her relationship with Mr Bercow now? Warm? Full of bonhomie?
"Absolutely cordial," Mrs Pay said.