MPs urge safety drive for UK's cyclists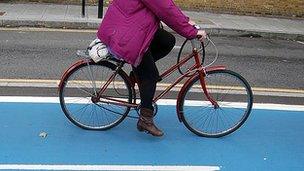 MPs have urged measures to make cycling safer, including more bike-only lanes, lower speed limits on roads and greater awareness of risks among drivers.
In a parliamentary debate, they said progress had been made but Britain's roads were not as safe as in Europe.
Lib Dem Julian Huppert said "lots of small changes" could improve safety without costing huge amounts.
Campaigners have called for upgrades to make lorries safer, improved junctions and better cycle training.
Thursday's debate, organised by the backbench business committee, comes amid a campaign launched by The Times highlighting the dangers cyclists face and urging a eight-point manifesto to make conditions safer.
Opening the well-attended debate, Mr Huppert - MP for Cambridge - said although cycling was "fundamentally safe" many people did not feel confident enough to do it.
"The more people cycle, the safer it is," he told fellow MPs. "A debate is long overdue and the need for change is pressing.
"It's not just about spending large amounts of cash. There are lots of small changes that will improve things for cycling.
"Some of this costs money but not actually a huge amount. To get to European standards, you need about £10 per person per year."
Several MPs called for speed limits to be reduced to 20 mph in urban areas and to 40mph on the majority of rural roads.
Labour's Nia Griffith, MP for Llanelli, said she had received "vitriolic e-mails" in the past after calling for most existing speed signs to be reclassified from mph to kmph. But she said this had happened outside many schools and the issue needed to be "readdressed" elsewhere.
"We need to make sure it is safe for cyclists to go wherever they want to, not just on the purpose built routes," she said.
Drivers needed to give cyclists the same amount of room when overtaking as they would other cars, she added.
Labour's Ben Bradshaw, MP for Exeter, said conditions for cyclists had been "transformed" in London in recent years but the same progress had not been made in many rural areas where the speed at which many people drove was "intolerable".
"Getting more people on bikes is the best way of making cycling safer," he said. "We know what works. We do not need to reinvent the wheel".
Labour's Stephen Pound raised the case of his local authority, Ealing Council, which he said had made sure all rubbish collection lorries had triple mirrors fitted to ensure "complete visibility".
His colleague Jeremy Corbyn called for all new bikes sold to be fitted with lights and cyclists provided with high-visibility vests and low-cost helmets.
Conservative Sarah Wollaston, MP for Totnes, said while safety concerns were paramount, the government should celebrate the joys of cycling which made people "glad to be alive".
"We do not want to frighten people off cycling. I think that is a very crucial message we need to send."
For the government, transport minister Norman Baker said he supported many of the campaign's objectives and was determined to move cycling further up the transport agenda.
"The more interest in cycling the better," he said. "The coalition agreement specifically refers to the promotion of cycling. It's there because we recognise as a coalition government it's good for the economy, it's good for the environment and it's good for health to get more people cycling."
He pointed to a recent move to allow greater use of so-called "Trixi mirrors" - which are fitted to traffic lights to give lorry drivers a better view of cyclists on their left side at road junctions - as evidence of how serious the issue of safety was viewed.
More than 30 cycling projects had received financial support from the government's sustainable transport fund, he added.
Cyclists staged a demonstration ride past outside Parliament on Wednesday on the eve of the debate.