Cameron's warm words for business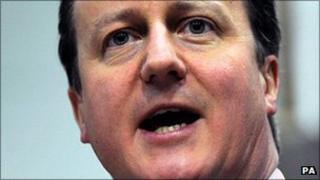 It's bonus season and there's been even more anti-big-bonus rhetoric than usual.
But now David Cameron is speaking out in defence of business, describing it as the "most powerful force for social progress the world has ever known".
It may not be a surprise that a Conservative leader would support free enterprise - they've traditionally always been pro-business.
But in a speech last month the prime minister seemed to want to distance himself from big business - accusing the previous Labour government of having "made a Faustian pact with the City".
Labour in turn accused him of not doing more to stop Royal Bank of Scotland boss Stephen Hester from receiving a bonus of almost £1 million in shares and threatened to put the issue to a vote in the Commons.
'Dangerous rhetoric'
When Mr Hester bowed to pressure and announced he would not take the bonus, Mr Cameron welcomed it and urged RUBS to show "restraint" in its other bonuses for senior executives.
He also welcomed the news that Sir Fred Goodwin, the former head of RBS, was to be stripped of his knighthood.
It looked like he was joining criticism of big business - but has he had a change of heart?
In Thursday's speech to the charity Business in the Community, which promotes responsible business practices, he praised large companies and said he was sick of "anti-business snobbery".
He also said that there's been some "dangerous rhetoric" about wealth creation and promised to fight it with all he's got.
It appears that far from seeing business as the enemy, he's encouraging us to embrace it.
It has lead to criticism from Labour' s Chuka Umunna that the prime minister's message is "totally confused and inconsistent".
'Crony capitalism'
The shadow business secretary has pointed to the prime minister's "moral capitalism" speech last month and accused him of now attempting to smear those calling for more responsible business.
But the messages Mr Cameron is getting on business are a bit confusing too.
The former shadow home secretary David Davis has attacked his leader's record on "crony capitalism".
In an article for Prospect magazine he criticised the government's decision to give Britain's 50 biggest companies ministerial "buddies" claiming "many will see this as proof the government pays too much attention to big business".
But Tory grandee, Lord Heseltine has warned that the government mustn't alienate business.
The former Conservative cabinet minister and self-made millionaire says capitalism's critics must not be allowed to undermine confidence in it, as it is the one thing that generates improvements in living standards.
Former defence secretary Liam Fox has called for tax cuts for business and deregulation of the labour market.
And Director General of the CBI John Cridland wants a £500m boost to business, through changes to the tax system aimed at stimulating growth.
All of this comes ahead of next month's budget.
Those seeking tax cuts may be disappointed - the chancellor doesn't have much room for manoeuvre.
The warm words from Mr Cameron may be an attempt to soften the blow, knowing he won't be able to give business many of the breaks they're calling for.
The chancellor is facing conflicting calls ahead of the budget - he's being lobbied by his own party and the Liberal Democrats to look again at helping those who will be affected by the cuts in child benefit.
But the one thing this government needs to get the economy moving again and the deficit down is business growth. For that reason the prime minister wants to be seen as on the side of business, rather than its enemy.