Commons to stage performance of Chris Mullin's diaries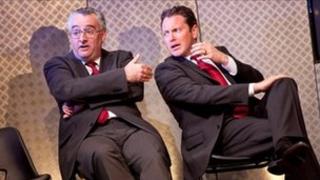 A hit play based on the diaries of former Labour MP Chris Mullin is to be staged in Parliament.
A one-off version of A Walk on Part will be performed in the State Rooms of the House of Commons this month before an audience of MPs and peers.
The play dramatises events from the first two volumes of the MP's diaries, in which he chronicled his time as a junior minister under Tony Blair and his return to the backbenches.
The play opened in Newcastle last year.
Commons Speaker John Bercow will host a special performance of the play in Parliament on 28 February before it returns to London for an extended run at the Soho Theatre.
Up to 150 MPs, peers and their staff will be able to see the free performance.
A spokesman for the Speaker said he believed it was the first time a full-length play had been performed in his official residence and he had given his approval as the subject matter had a clear "relevance" to Parliament and would be of interest to a large number of people.
The play is based on Mr Mullin's experiences and observations of Labour's time in power between 1999 and 2010.
Featuring more than 100 characters, the play follows Mr Mullin as he combines his duties in government, including as a minister under John Prescott and as minister for Africa in the Foreign Office, with his job as MP for Sunderland South.
It also examines the tensions at the heart of the Labour government and the relationships between key individuals - including Tony Blair and his successor Gordon Brown.
Mr Mullin, who stood down as an MP in 2010, published the final volume of his diaries last year, covering the period preceding Labour's 1997 landslide election victory and its first two years in power.