Budget 2012: Liam Fox calls for business tax cuts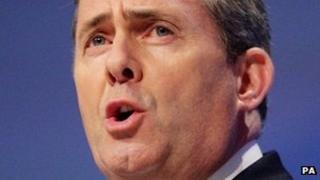 Liam Fox has called on Chancellor George Osborne to ease the tax burden on business in next month's Budget.
The former defence secretary also wants changes to the labour market to make it easier to hire and fire employees.
The Tory MP argued in the Financial Times for further public spending cuts to fund employment tax reductions.
But Deputy PM Nick Clegg said he favoured "tax cuts for the many, not the few" - while the GMB union said Mr Fox was "spouting... twaddle".
It is Mr Fox's first major political intervention since he resigned from the cabinet four months ago over his links to his friend, lobbyist Adam Werritty.
His call comes as business group the CBI urges the government to give a £500m boost to business in the 21 March Budget, through a series of "targeted and modest" tax cuts.
In its submission to the Treasury, the CBI called on the chancellor to deliver "Plan A plus" to bolster growth and investment.
In the FT, Mr Fox said there was a strong argument for more spending cuts to reduce "taxes on employment" and called for employers' National Insurance contributions to be reduced.
'Clearly cyclical'
Mr Fox wrote: "To restore competitiveness we must begin by deregulating the labour market. Political objections must be overridden.
"It is too difficult to hire and fire, and too expensive to take on new employees.
"It is intellectually unsustainable to believe that workplace rights should remain untouchable while output and employment are clearly cyclical."
Fellow senior Conservative backbencher David Davis told the BBC cuts in business taxes might be politically unpopular, but they would boost growth.
He added: "There's a growing consensus about the need for growth in the economy, there's a growing feeling that this Budget is the last chance. It takes time to work, this is the only time we can do anything about it."
'More optimistic'
But Lib Dem deputy PM Nick Clegg told the BBC while it was not wise to try to write the Budget for the chancellor - he would prefer to raise the threshold at which people start paying income tax further, to benefit milllions of basic rate taxpayers.
"It's really important to try and put a bit of money back into the pockets of millions of people in this country, because that means that they will then feel a little bit more confident about the future, a little bit more optimistic, and maybe go out and spend a bit of money.
"That in turn will help the wheels of the economy to start really moving again."
Paul Kenny, general secretary of the GMB union, criticised Mr Fox's intervention saying making it easier to sack workers would "increase security and conflict" and amounted to "extreme right wing drivel" from the former defence secretary.
He added: "Large companies are awash with cash. Cutting their taxes will simply add to these cash piles and do nothing to boost demand."
But Andrew Cave, of the Federation of Small Businesses, told the BBC the average business employed only four people adding: "Targeted tax cuts will deliver the kind of job creation that we need to get out of the slump we are in at the moment."
And CBI director general John Cridland urged Chancellor George Osborne to use the Budget to "score the growth and investment policy goals he put forward in his Autumn Statement".
On Sunday, shadow chancellor Ed Balls called for "decisive action" to boost economic growth and offered suggestions for tax cuts in the Budget.
Mr Balls' ideas include a VAT cut, a 3p income tax cut for a year, bringing forward the planned personal allowance rise to £10,000 and higher tax credits.
No tax cut could mean "a permanent dent in our nation's prosperity", he said.