Editors urged to help tackle online hate crime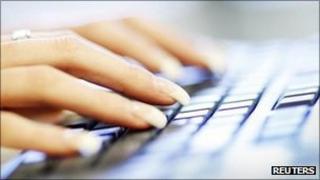 News websites will be asked to do more to address potential hate crime, as part of plans for a more "integrated" English society.
The government's strategy says a more integrated society is central to tackling extremism.
It wants to promote "core values" but favours helping local groups to take the lead over government intervention.
But the Runnymede Trust race equality think tank said it was an "ill-advised reversion to assimilationist policy".
Among its plans to tackle extremism and intolerance, the Department for Communities and Local Government says it will improve its understanding "of the new threat of online hate crime".
'Vigilant'
It pledges to work with key organisations, like the Society of Editors and the Press Complaints Commission, "to enable moderators of media sites to address this" and to work with local groups to stop access to "harmful and inappropriate content" in schools.
The PCC, whose responsibilities include moderated comments posted to media websites, said discussions were at an early stage.
The government's strategy, Creating the Conditions for Integration, also says it is committed to improving the reporting of hate crime - hostility based on race, religion, sexual orientation or disability - and will remain "vigilant to ongoing challenges" such as recent trends in anti-Muslim crime and antisemitism.
It says that generally people from different backgrounds get on well together.
But it says "substantial and sustained" increases in immigration over the past decade has led to problems in a small number of areas "with established communities unable to respond to the pace of change and incoming migrants to some communities unable or unwilling to integrate".
The report quotes figures from a DCLG report saying that 83% of people born outside the UK feel part of British society. But it says "too many" people suffer intolerance, quoting 48,127 hate crimes across England, Wales and Northern Ireland in 2010.
It says successfully integrated societies tend to be those which are "better equipped to resolve their own problems without state intervention".
'Wrong path'
The strategy says the government will stand up for "mainstream" values by strengthening national identity and celebrating what people in England have in common and urges local communities to use events like the Big Lunch or the Queen's Diamond Jubilee and inter-faith activities to bring together people of different backgrounds.
In an interview with the Daily Mail, Communities Secretary Eric Pickles attacked the "politics of division", which he said had seen public bodies "bending over backwards" to translate official documents into various languages - and seen men and women "disciplined for wearing modest symbols of Christian faith at work".
He suggested the former Labour equalities minister Harriet Harman had been "leading the country down the wrong path".
Instead he said a new approach was needed "that emphasises what we have in common rather than difference".
For Labour, shadow communities secretary Hilary Benn said Britain was "decent and tolerant", adding: "The government's proposals recognise much of this, but Eric Pickles' cheap attempt to try to divide us by criticising Labour's pursuit of a fair society is unworthy of him.
"We should instead be standing together against extremism from whatever source - those who are really trying try to divide us one from another - because they do not represent what Britain stands for."
The strategy says core British values - like democracy, the rule of law, equality of opportunity and freedom of speech - must be "robustly" promoted and councils, police and politicians must work together to address problems caused by extremist groups.
Central government will act in "exceptional" cases - if some funding is needed to "kick start" action - and will promote "mainstream British liberal values", it says.
The report gives the example of the home secretary banning planned marches by the English Defence League and proscribing groups like Muslims Against Crusades.
But Terry Sanderson, president of the National Secular Society, accused Mr Pickles - who cited recent action to allow councils to hold prayers at the start of meetings in the wake of a High Court ruling - of trying to restore "sectarianism".
And Andrew Copson, head of the British Humanist Association, said: "The vast majority of people in Britain are not members of any local church, religious group or community, and so to lay such emphasis on religious identities as being the ones most important for encouraging voluntary work or community building is misguided."
Rob Berkeley, director of the Runnymede Trust race equality think-tank, said Mr Pickles' announcement marked "a dangerous and ill-advised reversion to assimilationist policy where all differences of ethnicity and heritage are subsumed into a majoritarian 'mainstream"'.