Eurozone deal: Greek default could still happen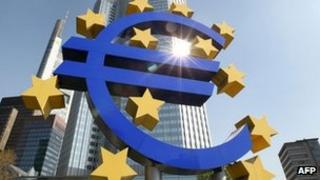 So, after 13 hours of talks into the wee small hours of this morning (unlucky for them!), eurozone finance ministers finally reached an agreement in principle on a second Greek bailout, this one worth 130bn euro plus a 50%+ write-down of private lenders holdings of Greek sovereign debt.
Since it's less than two years since Bailout 1 of 110bn euro and things in Greece have gone from bad to worse, you might wonder why this second one will do any better. And you'd not be the only one doing the wondering.
A "strictly confidential" report prepared for eurozone ministers' eyes only but helpfully leaked in this morning' s Financial Times shows that Brussels fears Bailout 3 could be necessary. It warns that Greece is now in a recession so deep that reducing its debt might prove impossible.
At the moment, its cumulative sovereign debt is almost 170% of GDP. Under Bailout 2 it's meant to fall to 120% by 2020 (though nobody seriously expects that to happen). But the leaked brief says it could still be 160% in eight years' time.
The brief also says that forcing private lenders to take a bigger than expected haircut on their loans to Greece (in reality they could end up losing 75% of their loans) is likely to destroy confidence among private investors, making it impossible for Athens to borrow from the financial markets for the foreseeable future.
So it could be on the eurozone drip feed indefinitely.
Two other points that could undermine Bailout 2: it assumes a return to strong growth from 2014 onwards, which might not happen; and the massive privatisation programme that was meant to generate 50bn euro in revenues has been downgraded to 30bn euro - and won't start for five years.
No alternative
Given eurozone ministers knew all this before they met last night you might wonder why they agreed to Bailout 2.
I suspect it was because, despite all the tough words in the run up to the summit, they didn't want to risk a messy default and thought there was no alternative.
At most Bailout 2 buys some time (like Bail Out 1).
But nobody knows what the eurozone will do with that time (the time Bailout 1 bought has been largely wasted). On present likely projections, even the Brussels bureaucrats think there's every chance there will need to be a Bailout 3.
But if it comes to that I expect the eurozone will finally refuse to write that third cheque. A Greek default has been averted for now. But it could still happen.