Peer explains 'ridiculous' vote against own amendment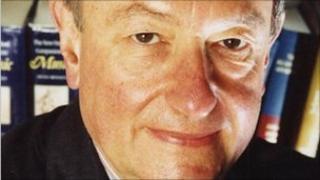 A Lib Dem peer has been explaining how he came to vote against his own amendment - admitting it had been a "ridiculous" position to be in.
Lord Lester QC is one of the peers named in a Financial Times story about Lib Dems opposing their own amendments.
He told the BBC his aim had been to strengthen a bill and it was normal to withdraw some amendments after debate.
But crossbenchers pushed it to a vote and he had not wanted to be "disloyal" and vote against the coalition.
In 2010 Lord Lester ended up opposing his own amendment to the Public Bodies Bill - aimed at restricting ministers' powers to abolish quangos. He had tried to withdraw it, but it was then called by crossbench and Labour peers and he ended up voting against it.
He said his intention had been to strengthen the bill, to make it "more constitutional and more likely to get through", but had intended to withdraw it at the end of the debate.
'Standing on my head'
He told BBC Radio 4's World at One programme: "I am a Liberal Democrat and subject to party discipline, so I did what you normally do at this stage at the end of the debate, when everyone agreed with me except the minister, I said I wanted to withdraw the amendment.
"My colleague David Pannick said 'why?' And I blathered. And then the Countess of Mar said 'why'? It was the crossbenchers, with Labour support, that divided the house and I found myself in the position where, to be loyal to the coalition, and have some persuasive power, I did the ridiculous thing of standing on my head and voting against my own amendment - I wouldn't do that again."
He said he had a "sense of humour" about it, but being in coalition meant putting aside personal beliefs for the sake of collective loyalty and it would be "disloyal" to vote with his conscience "all over the place".
"I would only vote against government policy in very exceptional circumstances," he said, adding that he would be betraying those who had worked hard on legislation if he were simply to vote "selfishly for my own beliefs".
'Hard to understand'
His fellow Lib Dem peer, Baroness Sharp, found herself in a similar situation when she tried to withdraw an amendment she had co-sponsored to the education bill, proposing that careers guidance counsellors meet certain standards. Labour peer Baroness Jones of Whitchurch moved it instead.
Baroness Sharp told the Financial Times: "Because we are in a coalition, we get more concessions than if we weren't, so I was happy to withdraw the amendment. Labour had a very similar proposal but decided to propose mine in order to deliberately embarrass us."
But Labour's leader in the Lords, Baroness Royall, told the newspaper: "It will be hard for people in the outside world, in the campaign groups and charities, to understand why some Lib Dems have taken to voting against matters that they previously pursued."
MPs and peers are not obliged to vote for their own amendments - for example "probing amendments" aim to get more information without going to a vote.
In May 2011 the Lib Dem MP Jenny Willotts blamed Labour for "playing political games" after voting against an amendment she had backed to the Welfare Reform Bill.
The Cardiff Central MP told the South Wales Echo at the time her aim had been to get certain assurances from the minister - which she had received so there was no need to press it to a vote.
Earlier this month Lib Dem peer Lord Alderdice put his name to an amendment to the Health and Social Care Bill, demanding that mental health be made a higher priority, alongside crossbenchers Lord Patel and Baroness Hollins and Conservative Lord Mackay.
The government was defeated by just four votes on the amendment - but Lord Alderdice ended up voting against it. Lord Patel had earlier mentioned that neither Lord Mackay nor Baroness Hollins were able to attend the debate that day.
The Labour MP Frank Field also ended up withdrawing his support for an amendment he had proposed on abortion counselling, alongside Conservative backbencher Nadine Dorries last year, after the government said it would consult on improving counselling for women.