MP apologises for failing to mention interest in health firm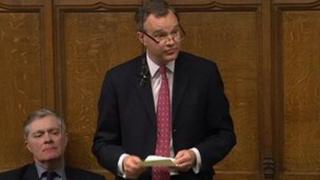 Conservative MP and ministerial aide Mark Simmonds has apologised for failing to make clear an interest when speaking in favour of the NHS shake-up.
The Boston and Skegness MP, 47, is parliamentary private secretary to Environment Secretary Caroline Spelman.
The MPs' register of interest shows he is paid £50,000 a year as a strategic adviser to Circle Healthcare.
Mr Simmonds told MPs he wanted to apologise for "inadvertently" failing to declare his interest.
He made his statement during a Point of Order, referring to Circle as a "social enterprise". Although he had correctly declared his interest in the register of interests, he did not mention it - as MPs should - when speaking in the debates on the Health and Social Care Bill in January and March last year.
Circle describes itself as a social enterprise because it is 49.9% is owned by a partnership of employees. Others see it as a private business as the rest is owned by its parent company, Circle Holdings, which is listed on the stock market.
Circle was in the news recently when it became the first private firm to run an NHS hospital, Hinchingbrooke Hospital, Cambridgeshire.