Tribute paid to Lords Carr and Corbett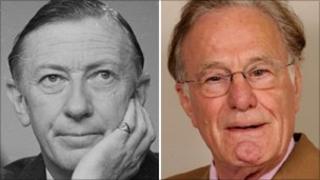 Tributes have been paid to a Conservative and a Labour peer who died within two days of each other.
Lord Corbett of Castle Vale, prominent in a campaign to secure anonymity for rape victims, died on Sunday, aged 78.
MP Denis MacShane described him as a "big, warm, reliable friend" and one of the best Labour MPs over many years.
On Friday, former Conservative cabinet minister Lord Carr of Hadley died aged 95. His party chairman Baroness Warsi said he had served with distinction.
Robert Carr was briefly party leader in 1975 before Margaret Thatcher took over from Edward Heath but is better known for his attempts to reform trade union law.
In 1950, he left his family engineering business to be MP in Mitcham, south London, and quickly established his moderate One Nation stance under Sir Anthony Eden.
As a junior minister he specialised in work issues, becoming Edward Heath's employment secretary in 1970 and pushing through the highly controversial industrial relations bill.
After a brief spell as leader of the Commons, he became home secretary and had to deal with both bitterness from the unions and a sudden wave of Asian immigrants expelled from Uganda.
It was a highly charged atmosphere and a bomb was planted outside his home.
When Mrs Thatcher took over as party leader, Robert Carr went to the Lords.
'True Conservative'
Conservative Party co-chairman Baroness Warsi said: "It is with great sadness that we learn of the death of the Baron Carr of Hadley.
"He was a true Conservative who served his party with distinction. Our thoughts and prayers are with his wife Joan and his two daughters."
Australian-born Lord Corbett, who had been suffering from cancer, served in several front-bench posts in opposition.
He started out as a journalist, first for the Birmingham Evening Mail, then the Daily Mirror before becoming deputy editor of Farmer's Weekly.
In 1974, he was elected Labour MP for Hemel Hempstead but lost his seat in 1979.
Four years later, he returned to Parliament as MP for Birmingham Erdington, where he stayed until his retirement from the Commons at the 2001 general election.
For 13 years from 1979, he was opposition spokesman on home affairs, then took over as spokesman for national heritage and press until 1995.
He also held the post of Labour Party whip, and in 1999 became chairman of the home affairs select committee until 2001, when he was made a life peer.
Independent Labour MP Denis MacShane said: "Robin Corbett was a young member of the National Union of Journalists executive committee and was a champion of journalist rights and freedoms in the Commons.
"Like many of his generation, he spent his best years as an MP in opposition as the Labour Party made itself unelectable in the 1980s."
Of his role as chairman of the all-party parliamentary penal affairs group, Juliet Lyon, director of the Prison Reform Trust, said: "He gave former prisoners, families and victims alike the confidence to speak out in Parliament and took care that concerns were taken up and, where possible, wrongs righted.
"He never allowed narrow party politics to hijack debate or block genuine reform."