Matalan reviews role in Get Britain Working scheme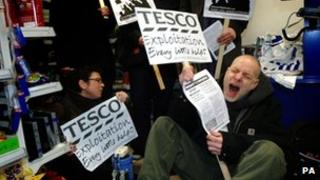 The fashion chain, Matalan, has suspended its involvement in a government-backed work experience scheme that has caused controversy.
Critics claim the Get Britain Working project exploits people on benefits.
Sainsbury's and Waterstones have already opted out of the scheme, which requires people to work for nothing for an employer for up to eight weeks.
But the Employment Minister, Chris Grayling, has defended the initiative and said it was voluntary.
Some participants of Get Britain Working have been told they could lose their benefits if they drop out before the end of their placement.
Matalan said in a blog on its website that "as a result of negative speculation, Matalan has paused the programme in order to conduct a review related to the terms of these work placements and will not be employing any additional resource in the meantime until the review is concluded".
It said it was "supportive of the initiative and its ability to provide the opportunity for unemployed people to gain experience that will be beneficial for future job seeking".
Voluntary scheme
Earlier, police were called after a dozen protesters forced the closure of a Tesco Express store opposite the Houses of Parliament in a protest about the scheme.
This came after an advert was published for a night-shift worker at a Tesco store in Suffolk which suggested they would only receive expenses on top of their Jobseeker's Allowance. The advert was later amended.
A Tesco spokesman said Jobcentre Plus had wrongly advertised a short work experience placement at Tesco as a permanent unpaid job.
''This has resulted in widespread misunderstanding of our position," he said.
He said Tesco had been working with Jobcentre Plus for many months to offer work experience opportunities lasting up to four weeks for young unemployed people.
"No one is under any obligation to take part in the scheme, and Jobcentre Plus has assured us that all of those who have come to Tesco have done so as volunteers.
"Tesco would not take part in any mandatory scheme. This is all about helping young people who want to find a job.
"We would never offer longer term work on an unpaid basis".
He continued: "Work experience at Tesco should, wherever possible, be a pathway to a paid job with Tesco. That has already been the case for 300 work experience participants with us so far and we hope it will be for many more people.
"We understand the concern that those who stay in the scheme longer than a week risk losing their benefits if they drop out before the end of their placement.
"We have suggested to DWP that, to avoid any misunderstanding about the voluntary nature of the scheme, this threat of losing benefit should be removed."
The Commons Work and Pensions Select committee is investigating whether employers are using it to get "free labour" and has questioned whether the government can threaten to withdraw benefits from those who do not take part.
'Absurd' idea
But Mr Grayling insisted it was a voluntary scheme and said: "The only way that any jobseeker can fall foul of the sanctioning regime in this is if they walk out of a placement several weeks in.
"They have a week to decide whether it is right for them or not and if they think it isn't they can leave.
"Later in the placement if they just don't turn up one day and decide not to come back they can have a limited sanction."
He said: "The idea that providing work experience for unemployed young people is some kind of forced labour is utterly and completely absurd."
A DWP spokesperson also said: "The scheme is voluntary and no one is forced to take part and the threat of losing the benefit only starts once a week has passed on the placement - this was designed to provide certainty to employers and the individuals taking part."
The spokesperson also confirmed that the Tesco role had been "incorrectly described and advertised by Jobcentre Plus; not by Tesco - there was no error whatsoever on their part."
The shopworkers' union Usdaw, which represents more than 400,000 workers, said it was in discussions with major retailers about their involvement.
It says that, while work experience could be valuable, schemes should be voluntary and pay the going rate.
Mark Dunk, of the Right to Work campaign, said: "Instead of forcing people to work for free we need an end to job cuts and mass investment to address the scandal of unemployment."