Lord Prescott says he told Ed Miliband 'wear a jacket'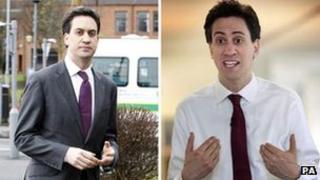 Lord Prescott has revealed the key advice he gave Ed Miliband on becoming party leader - always wear a jacket.
The ex-deputy prime minister told Radio 4's Desert Island Discs he thinks Mr Miliband will be the next Labour PM and is now showing "some grit".
"Ed came to me for advice... and I said put your jacket on, leaders shouldn't be seen without their jacket," he said.
Lord Prescott also said he would press ahead with plans to be elected as a police commissioner "to stay active".
The veteran politician plans to stand for the position of Police and Crime Commissioner for Humberside. Presenter Kirsty Young pointed out that, if elected, he would be 74 when he took up the four-year post.
But he replied: "I'm not a slippers man. I just can't stay at home."
He said his wife Pauline was worried about the stress if he stayed at home.
Mr Miliband has lent his backing to Lord Prescott's campaign to win the Labour nomination.
Lord Prescott, a former merchant ship steward, told the programme he never had an ambition to be a politician but was encouraged by his trade union, the National Union of Seamen (NUS), when he became a union rep. The NUS became part of the RMT in 1990.
He was elected as Labour MP for Hull East in 1970 and spoke of the inferiority complex he suffered when he arrived in Parliament.
But, as John Prescott, he rose through the ranks of the Labour Party and by 1997 was Tony Blair's right-hand man when the party won a landslide election.
It has recently emerged he was a victim of the phone-hacking scandal during his time in power.
Earlier this month the police apologised to Lord Prescott and several other people for failing to warn them of the hacking and he told Desert Island Discs it had been important to get an apology.
He became Baron Prescott of Kingston-upon-Hull in 2010 and although he said he shivers when he hears it, he said the House of Lords gave him an important political platform.
He said his wife liked being called Lady Prescott and he said he was glad she had it, for standing by him after it was revealed he had an affair.
Lord Prescott said he had been "an idiot" to have an affair with his secretary Tracey Temple and added: "It wasn't like a flowing affair, going out to dinner.
"It was just acts that took place. I can't justify it at all and I'm to blame."
Lord Prescott, who was born in north Wales in 1938 but moved to Yorkshire during the war, was asked about his earliest memories and he said he remembered looking for bombs in Sheffield and running into a bomb shelter.
His father lost part of his leg during the war and Lord Prescott said his father, who he described as a "chancer", later smuggled alcohol and cigarettes in his artificial leg.
Lord Prescott said he had been too aloof as a father and he regretted not giving his children more hugs.
He said: "I was a bit detached as a father - not indifferent, but kind of detached. That comes from a background, a culture.
"I've got two brilliant sons and I love them to death, but to my great regret I cannot somehow put my arms round my sons. I don't know where it comes from, but I very much regret that I never had that."
Lord Prescott said it was possibly of part of an old-fashioned "British culture" and he said things had definitely changed in recent years.
He said he "couldn't quite understand" when he saw Mr Blair and Gordon Brown on their hands and knees playing with their children.
But he said he changed after his granddaughter Ava Grace was born in 2009: "I was on my hands and knees chasing her around. She is a great pleasure to us and I realised the kind of feelings that grandparents can have and the relationship with the grandchild that does develop."
Lord Prescott appears on Desert Island Discs on BBC Radio 4 at 1115 GMT on Sunday and later will be available on the iplayer.