Faith rules 'end at temple door', equalities chief says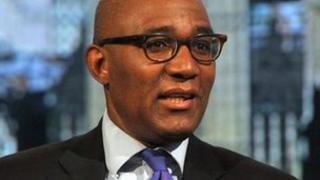 Christians who argue they should be exempt from equality laws are no different from Muslims who want to impose sharia law in the UK, human rights chief Trevor Phillips has said.
He told a debate religious rules should lose sway "at the door of the temple".
Christian adoption agencies and hotel owners have fought legal battles against rules requiring them to treat gay and straight people equally.
But Mr Phillips said those who provide a public service must abide by the law.
Catholic adoption agencies have objected to legislation which requires them not to discriminate between gay and straight couples on the grounds of sexuality when considering applications.
Last year, after a High Court case, the Charity Commission refused to grant an exemption for one Leeds-based agency, Catholic Care.
Disputes have also arisen where Christian bed and breakfast owners have turned away gay couples and subsequently been ordered to pay damages.
Mr Phillips, chairman of the Equality and Human Rights Commission, was speaking at a debate organised by the Religion and Society Research Programme.
Asked about conflicts between religion and equalities, he said: "The law stops at the door of the temple as far as I'm concerned.
"Once you start to provide public services that have to be run under public rules, for example child protection, then you have to go with public law.
"Institutions have to make a decision whether they want to do that or they don't want to do that, but you can't say 'because we decide we're different then we need a different set of laws'."
He continued: "To me there's nothing different in principle with a Catholic adoption agency, or indeed Methodist adoption agency, saying the rules in our community are different and therefore the law shouldn't apply to us.
"Why not then say sharia can be apply to different parts of the country? It doesn't work."
Sharia law is Islam's legal system and is derived from both the Koran and fatwas - the rulings of Islamic scholars.
Sharia councils have been working in the UK for several decades with the key areas being family law, finance and business - although they have no legal powers to impose penalties.
Former Archbishop of Canterbury Lord Carey told the Daily Mail Mr Phillips' comparison with sharia was "ridiculous".
Rt Rev Michael Nazir-Ali, former Bishop of Rochester, said: "Trevor Phillips in the past has argued for respect for Christian conscience. I am very surprised that here he seems to be saying there should be a totalitarian kind of view in which a believer's conscience should not be respected."
But Keith Porteous Wood, from the National Secular Society, agreed with Mr Phillips, saying: "There is no such thing as partial equality and every time an exemption is made, someone else's rights are compromised."