Gordon Brown earns £1.4m since leaving Number 10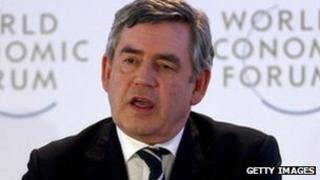 Gordon Brown has earned more than £1.4m since he stood down as prime minister, including fees and expenses.
The ex-Prime Minister's spokeswoman said that "not a single penny" of the money went to Mr Brown personally.
It was all donated either directly to charity or to help the Office of Gordon and Sarah Brown fund charity work.
Mr Brown's most lucrative speech, in Nigeria, earned £74,936, and he got more than £180,000 in fees and expenses for work at New York University.
Mr Brown left Number 10 after the May 2010 general election but remains the MP for Kirkcaldy and Cowdenbeath.
His predecessor in Downing Street, Tony Blair, reportedly earns some £12 million a year on the lecture circuit and from other posts.
The latest figures for Mr Brown are contained in an updated entry in the House of Commons register of members' interests.
It shows he has earned:
more than £180,000 for his role as Distinguished Global Leader in Residence at New York University
£74,936 in fees and £20,165 in travel expenses for a speech organised by the ANAP Foundation, a charity promoting good governance, and Nigerian newspaper This Day
£61,637 for a speech to a Moscow bank, £62,108 for a speech to a South Korean business newspaper and £49,052 for a speech to King Saud University in Riyadh
an advance of more than £78,000 for Beyond the Crash - all proceeds from the book have been pledged to charity Piggy Bank Kids
an advance of £22,500 for a second book due out this year
Mr Brown has travelled all over the world for speeches and events, including a three-day trip to China paid for by the Chinese People's Institute for Foreign Affairs.
He has had other engagements in Kenya, Singapore, India and Switzerland. On several occasions, organisations have paid travel and accommodation expenses for both Mr Brown himself and members of his staff.
Some £997,000 in fees and about £293,000 in expenses have gone to the Browns' office which they set up to fund campaigns on issues such as improving education and cutting maternal death rates in the developing world.
Mr Brown's spokeswoman said: "Not a single penny from speeches nor books goes to Mr Brown personally.
"A list of some of the many charitable projects Sarah and Gordon support including PiggyBankKids is contained on their website.
"Indeed Mr Brown's sole personal earnings are his salary as an MP because he has also renounced the prime ministerial pension he was entitled to receive immediately he retired as PM."