Scottish independence: Voters need 'straight choice'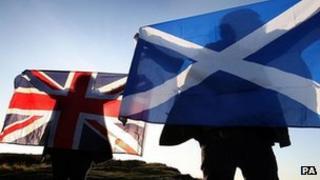 Scotland's voters must have a "straight choice" between independence and remaining in the Union, rather than being given a third option if a referendum is held, peers say.
The Lords constitution committee found an option of "devolution max", giving more tax powers to Holyrood, would set up "competing" systems within the UK.
It raised doubts over whether Scotland should be allowed to make such a move.
Scotland's government is said to be open minded on having a third question.
First Minister Alex Salmond - the leader of the Scottish National Party - promised a referendum ahead of winning the country's parliamentary elections last year.
He is in negotiations with the Westminster coalition government over the date when this will happen and what form the ballot should take.
'Profound difference'
The third proposed option - widely known as "devolution max" - is to offer Scotland more control over its governance, including areas such as taxation.
The SNP argues that this could gives voters who want more powers to be transferred from Westminster to Edinburgh, but not full independence, a chance to air their views.
But opponents claim this would enable the SNP to change the constitution even if it loses a vote on leaving the Union.
The Lords committee agreed with the Westminster coalition's stance, saying it felt "strongly" that devolution-max "should not be a question for Scotland alone", as it had "the potential to create different and competing tax regimes within the UK".
It added there was a "profound difference" between independence and devolution max and having them as options on the same referendum paper would "conflate" two "distinct constitutional outcomes".
It added: "In respect of one, Scotland remains in the United Kingdom; in respect of the other, it does not."
The peers also said: "Proper constitutional process requires that negotiations involving all parts of the United Kingdom precede any referendum on an agreed scheme of 'devolution max'."
This would have to take into account "the legitimate interests of each and all" across the UK, which could suffer from having a less competitive tax regime than Scotland.
Cameron offer
The committee's chairman, Labour's Baroness Jay, said: "We are firmly of the view that any referendum that is held must be a straight choice between full independence or the status-quo.
"A third 'devolution-max' option is clearly something every part of the UK must have a say in as it has the potential to create different and competing tax regimes within the UK."
However, SNP MSP Kenneth Gibson said Scotland's constitutional future could only be decided by the people who live in Scotland.
He said: "The position is very clear - the Scottish government achieved an overwhelming mandate from the people of Scotland to hold the referendum that is exactly what we will do."
He added: "There is a growing groundswell of authoritative opinion that Scotland's referendum does indeed belong to the people of Scotland - the Lords would do well to take note of this."
On a visit to Edinburgh on Thursday, in a move widely seen as attempting to quell calls for devolution max, Prime Minister David Cameron offered to consider more powers for Scotland in the event of a referendum vote against independence.
Earlier this week, Scottish Secretary Michael Moore held the first in a series of talks with Mr Salmond on arrangements for the referendum.
The SNP wants the referendum to take place in 2014.
UK ministers also want it to be staged sooner than the SNP has proposed, and they also disagree with calls to let 16 and 17-year-olds vote.