Nick Clegg urges bosses to back £1bn youth jobs plan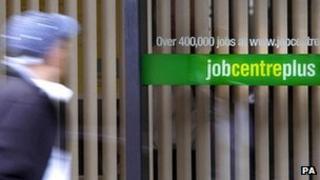 Nick Clegg is urging firms to join a £1bn government scheme offering them cash to take on and train young people.
The deputy prime minister is writing to employers about the Youth Contract, which will provide a wage subsidy of £2,275 for 18 to 24-year-olds.
The scheme, which gets under way in April, is aimed at curbing high rates of youth unemployment.
Mr Clegg said it would give a "significant boost", but Labour says the government is not doing enough.
More than one million 16 to 24-year-olds in the UK are currently unemployed.
The three-year Youth Contract scheme is aimed at ensuring that this does not become a long-term problem.
It will give employers subsidies to take on a total of 160,000 18-to 24-year-olds for six months.
'Call to arms'
Plans also include:
250,000 young people being offered work experience placements lasting up to eight weeks. These will be available to every unemployed 18-to 24-year-old who wants one and has been seeking work for three months or more.
A £50m programme for the 25,000 most disadvantaged 16-and 17-year-olds in England - those not in employment, education or training - to get them onto an apprenticeship or into work.
At least 20,000 additional incentive payments for firms in England to take on 16-to 24-year-olds in apprenticeships.
More support for young people at job centres, such as extra time with advisers and a careers interview.
In his letter to businesses, the deputy prime minister says: "Getting young people earning or learning is my top priority, and that's what the Youth Contract is going to do. This is a long-term boost to help business get young people into jobs before lasting damage is done.
"Employers have a huge part to play in this and the subsidy we're announcing today benefits business and young people."
He adds: "Today I'm writing out to thousands of employers of all sizes - from global corporations to small local firms - calling on them to look at what we're offering through the Youth Contract and sign up to offer jobs from April.
"This is a significant moment and a call to arms for businesses to offer long-term opportunities to young people who are out of work."
John Longworth, director general of the British Chambers of Commerce, said: "Businesses are ready to do their bit, and the Youth Contract will provide a much-needed jobs boost for the young.
"But this scheme aims to help young people who are removed from the labour market, and could pose a considerable risk for employers. This is why contracts should be as flexible as possible to incentivise more firms to give these young people a chance."
Labour has said the initiative is a watered-down version of the last government's future jobs fund, which the coalition scrapped after coming to power.
This initiative guaranteed under-24s out of work for six months a job or training and Labour says 50% of those who took part ended up with a permanent position.