Peers urge tougher restrictions on basement extensions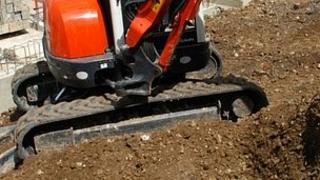 Peers have called for restrictions on people building swimming pools and gyms in their basements, due to the risk of damage and disturbance to neighbours.
Conservative peer Lord Selsdon said special planning permission should be required for basement extensions as they were often a "social issue".
He is proposing a code of conduct for developers - but his bill is unlikely to pass without government support.
Ministers said existing laws gave people adequate protection and redress.
The House of Lords passed Lord Selsdon's Subterranean Development Bill unopposed at its second reading - the first substantive stage of its parliamentary passage.
But as it is a private members' bill, it is unlikely to proceed much further without government backing.
'Enormous inconvenience'
Lord Selsdon told peers basement developments were most contentious in London - where high property prices made extending downwards more attractive - but there were examples across the country.
"When you come to people digging underground and disturbing and disrupting their neighbours it becomes a social issue," he said.
He was backed by former Conservative cabinet minister Lord Jenkin, who said the impact on residents living next to developments could be "horrendous".
"It is not just people looking for living accommodation," he said.
"Many of these major developments are for swimming pools and gyms. I have been told that a wealthy house owner can spend £750,000 on excavating and putting in a swimming pool in the basement."
Conservative peer Viscount Astor, who is David Cameron's father-in-law, said he had experienced the problem at a basement flat he owned on "quite a smart street in London", when the neighbours started excavating.
"The builders appeared and they dug and they dug and they dug," he explained.
"I have no idea how far they dug but the result was that both houses on either side virtually collapsed into the hole, causing enormous inconvenience to them."
He added: "I am not against any form of development but development must be regulated."
And Lib Dem peer Lord Rodgers said basement excavations could "disrupt the water table and drainage".
'Impotent'
For the government, Baroness Hanham said most basement extensions did not leave any permanent visual damage in their neighbourhoods.
But the communities minister acknowledged neighbours were right to be concerned about the disruption caused by building work and felt "frustrated by their impotence to deal with it".
"We recognise that neighbours and local residents are right to expect effective and responsible management of development and swift action when things do not go the way they should," she said.
"But legislation already provides for most of the solutions to these problems, if it can be and is used in the right way."
The government said last year that it would set up a working party to look at ways in which "extra clout" could be given to local authorities to control such developments.