Why Borgen's all the buzz at Westminster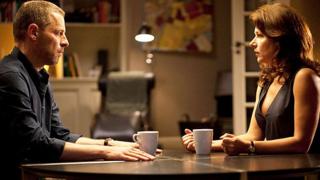 During the Blair years it was the West Wing that obsessed the Westminster village.
The fast-talking, fast-walking, frenetic White House drama somehow seemed to reflect and tap in to the more optimistic mood of those times.
Oh, and the good guys always seemed to win.
Now rather more bizarrely, it is Borgen that's all the buzz.
A moody, Danish political drama, complete with subtitles, prolonged pauses and superficially consensual continental politics would not seem the sort of programme to become the hot topic in the coffee bars and corridors of the Commons.
Even more improbably the central character in Borgen is such an unlikely figure when viewed from the staid, male dominated world of Westminster.
Birgitte Nyborg is an attractive, well-intentioned, left-leaning, green-tinged female prime minister who's worried about her weight and leads a party called "The Moderates".
So far, so terribly naff.
Must watch
And yet Borgen has become the "must watch" of the Westminster village.
In part this is because it tells the instantly recognisable tale of an unlikely coalition government battling with austerity and awkward alliances and compromises.
But it is also because it shines a particularly harsh, uncompromising Scandinavian light on those of us peddling our trade around SW1.
For MPs, their aides and associates it tells some uncomfortable eternal truths about the world of politics.
First, is the cost to friends and family.
As Birgitte Nyborg climbs ever higher up the political tree, so her family life disintegrates ever more disastrously.
Culminating in weekly diary appointments for sex with her husband, psychiatric help for her youngest child and divorce.
So far, so depressing but perhaps not so far-fetched.
After all, who at Westminster would not recognise those frosty dinner table showdowns or the strain politics inevitably puts on marital harmony?
And then there are the inevitable compromises. The fraying and forgoing of once tightly-held principles and beliefs as they collide with reality.
Birgitte Nyborg is forced to swallow her liberal instincts and, eventually, is willing to compromise with unsavoury regimes in return for lucrative contracts and jobs.
She becomes as cynical and manipulative of the media as those she once decried.
Ruthless
Finally there is the utter ruthlessness that Borgen demonstrates is necessary to succeed.
PM Nyborg dispatches her long time political mentor and cabinet ally with scarcely a blink as she seeks to re-balance her shaky coalition.
A foolish friend who's recorded making drunken threats is abandoned to be devoured by a tabloid frenzy.
Perhaps no surprise then, given this rather bleak take on politics, each episode of Borgen begins with some dark observation from the likes of Machiavelli or Mao. Or this from Lenin: "Trust is good. Control is better."
OK, it is not the sort of drama to re-build your faith in politics but if you want to understand what makes politicians and politics tick in these less certain, more austere times - it is a good place to start.