Pay freeze for MPs to continue until 2013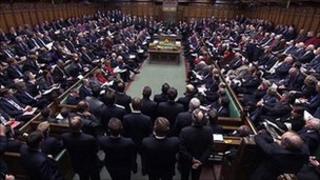 A pay freeze for MPs, voted through in the Commons last year, will be extended for 2012/13, say expenses chiefs.
The Independent Parliamentary Standards Authority says MPs should "share the burden" of pay restraint.
Backbench MPs are paid £65,738 a year and last year agreed to vote down a planned 1% pay rise.
In October Ipsa took control of MPs pay and pensions - so MPs no longer get a vote on it. It will also consult on increasing their pension contributions.
Last year - to the annoyance of some MPs - the government urged the Commons to back plans to have their pension schemes run by Ipsa, and to raise contribution rates in line with other public sector workers by 2015.
MPs have a funded final salary scheme, they pay a fixed contribution and the Exchequer is liable for the balance.
Unusually, they can choose to contribute either 11.9%, 7.9% or 5.9% of their salaries to their pension scheme - accruing benefits at 40ths, 50ths or 60ths of their annual salaries respectively.
Pay cap
Ipsa said on Wednesday it would recommend MPs increase their contributions by 1.85% - although it would also consult on allowing them to switch to a lower accrual rate, in recognition of the fact some were already paying a high rate.
On pay, it said the current pay freeze would continue into 2012-13, but it would consult on a 1% rise for the following two years - which is in line with what Chancellor George Osborne has announced for public sector workers.
Last March, MPs agreed to vote down a recommendation from the Senior Salaries Review Body that their salaries should rise by 1%.
The SSRB's awards had been implemented automatically since 2008 but the government urged MPs to recognise public feeling, at a time public sector workers on more than £21,000 were facing a two-year freeze. They have since been told they will continue to face a 1% cap on pay rises for two more years after 2013.
The government also wants public sector workers to pay more into their pensions, work for longer and accept a pension based on a "career average" salary, rather than a final salary - proposals which have already led to widespread strikes.
The MPs' contribution increase would only be a temporary measure ahead of Ipsa's full review of MPs' pay and pensions - due to report back by the end of 2013 - which might include considering whether the final salary scheme should end.
Chairman of Ipsa, Sir Ian Kennedy said: "We are exploring the broader question of how to reform MPs' remuneration to make it fair to MPs and taxpayers alike and, crucially, how to make it sustainable.
"In the meantime, we must be mindful of the conditions in the rest of the public sector where pay has remained static and where settlements will see most people pay more into their pensions too.
"While we address the longer term changes which are needed, I believe it is right that we act in the interim so that MPs' circumstances more closely reflect those experienced by others."
The consultation on MPs' pensions contributions will run until 29 February.