Dogs may have compulsory microchips, minister hints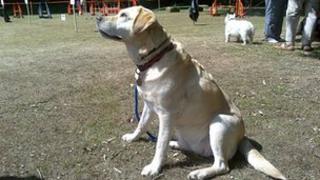 A minister has hinted they may support compulsory microchipping of dogs to help encourage "responsible" ownership.
Lord Taylor of Holbeach told peers a "package of measures" would be announced soon and suggested microchips could be "part of" the strategy.
Supporters say microchipping will help reduce dog attacks by making it easier to trace owners and speed up efforts to find new homes for stray animals.
Critics question the effectiveness and likely cost of the move.
The last Labour government came out in favour of compulsory microchipping shortly before the 2010 election and the coalition has been looking at whether to take it forward.
'Human costs'
In response to a question in the House of Lords, environment minister Lord Taylor said the government would set out the arguments for and against compulsory microchipping when it announces its new strategy on dog ownership.
"We are close to finalising a package of measures to tackle irresponsible dog owners," he said.
Pressed on whether the government would propose compulsory microchipping, Lord Taylor said ministers were concerned about the "human cost" of attacks by dogs and the "enormous" financial cost of having to deal with strays.
"We see microchipping as part of the measures we can do to address an increasing problem," Lord Taylor said, pointing out that 58% of dogs were already microchipped voluntarily.
Peers were told there were 126,000 stray dogs in the UK and rehousing them cost £1,100 each. About 6,000 healthy dogs were put down in 2011 because no homes could be found for them.
Labour peer Lord Hoyle said compulsory microchipping would be "highly popular" with the public.
"Taking the old adage 'there are no bad dogs, just bad owners.
"Microchipping would make for more responsible dog ownership. It would also make it easier for dogs who have strayed to find their owners and it would cut down on stolen dogs."
'Very sore'
Crossbench peer Lady Mar said if all puppies were microchipped before they were eight months old, they could be traced to their breeders and the "iniquitous practice" of puppy farming could be reduced.
But Conservative peer Lord Renton said ministers must think "carefully before" taking such a step.
"There are many dogs that take very badly to having a chip in them," he said. "They get very sore. Surely anyone who cannot control their dog should not have one. That is what should be the course."
About 5,000 owners already voluntarily choose to microchip their dogs.