Downing Street denies UK is 'militarising' Falklands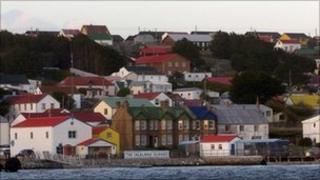 Downing Street has denied claims by Argentina that it is "militarising the South Atlantic", in a dispute about the Falkland Islands.
Argentine President Cristina Fernandez de Kirchner has said she intends to make a formal complaint to the UN over the increased military presence.
Last month, the UK said it was sending a destroyer to the region.
A Downing St spokeswoman said: "We are not militarising the South Atlantic, our military posture remains the same."
She said people in the Falklands had chosen to be British, and there was already a UN committee where issues relating to the Falklands could be considered.
Tensions between the UK and Argentina have been increasing in recent weeks.
'Routine' move
The status of the Falkland Islands, held by Britain since 1833 but known in Argentina as the Malvinas, is still a highly sensitive issue for Buenos Aires.
In December, Mercosur, a South American trading bloc, closed its ports to ships flying the Falkland Islands flag.
Then last month the UK said it was sending one of its newest Royal Navy destroyers, HMS Dauntless, to the South Atlantic, off the Falklands.
London described the move as "routine".
Prince William, grandson of Britain's Queen Elizabeth II and second in line to the throne, was also deployed to the islands in his role as a search-and-rescue helicopter pilot.
On Tuesday, Ms Fernandez said she would be presenting a complaint to the UN Security Council and the UN General Assembly "as this militarisation poses a grave danger to international security".
She added: "We cannot interpret in any other way the deployment of an ultra-modern destroyer accompanying the heir to the throne, who we would prefer to see in civilian attire."
The BBC's Fergal Keane says President Fernandez's initiative is consistent with recent Argentine attempts to internationalise the Falklands issue.