Consider red light change to boost cycle safety - peer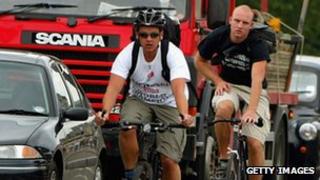 Ministers have been urged to look into allowing cyclists to go through red lights, in an attempt to cut fatalities and serious injuries.
Baroness Gardner of Parkes urged them to look at a pilot scheme which has just been approved in Paris.
The Tory peer suggested more women were killed than men by lorries turning left at junctions because they "wait at the red lights and men go through them".
Transport Minister Earl Attlee said he had not heard of the experiment.
But he said while they were "aware of the hypothesis" that more women were killed or seriously injured on bikes than men, accident figures were "mercifully low - but unfortunately increasing".
"It's difficult to extract measurable data to formulate policy or to make effective regulations."
Councillors in Paris this week agreed to allow cyclists to turn right (the equivalent of turning left in the UK where people drive on the left) or go straight on at T-junctions, even when the lights are red, in a pilot scheme in one district, following a campaign by cycling groups.
Trixi mirrors
The minister told peers he was "unfortunately not aware of the situation in Paris".
Baroness Gardner described it as having "specific lights for cyclists" at dangerous junctions and urged the government to "look into the possibility" of the system - but she was corrected by Labour peer Lord Young of Norwood Green who said it was "about allowing cyclists to go through red lights, where the situation is safe".
The baroness also pressed the minister on so-called "Trixi mirrors" - fitted to traffic lights to give lorry drivers a better view of cyclists on their left side at road junctions - pointing out that "large vehicles turning left do have a degree of difficulty in seeing people".
Earl Attlee said: "The department provided approval to Transport for London to extend the use of these mirrors across their cycle super-highway network." He added it would "consider further requests for Trixi mirrors by other authorities".
But he resisted a call from another peer to cut the "bureaucracy" around Trixi mirrors - for which local authorities have to apply to the Department for Transport for permission - saying it was important to avoid "a plethora of different traffic signals" which might confuse motorists.
The minister said that of 16 cyclists killed in London in 2011, 12 had involved a goods vehicle - seven of which were construction vehicles. Conservative peer Lord Cormack suggested the answer might be restricting the times freight delivery vehicles were on the roads.
Then Lords exchanges came as Lib Dem MP Julian Huppert - who co-chairs Parliament's all-party cycling group - secured a backbench debate on cycling safety on 23 February.
Making the case for the debate he cited the Times' Cities fit for Cycling campaign. He also has an early day motion, expressing concern at the rising number of cyclists killed on the road and the "disproportionate number" of accidents involving vans and lorries.